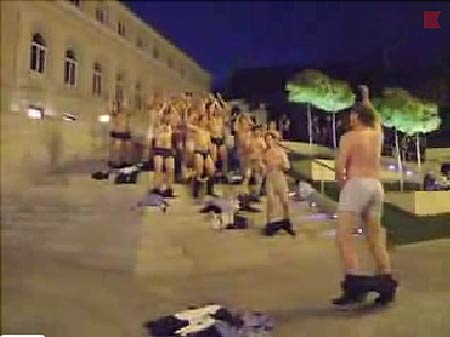 The Austrian national rugby team suffered a horrible defeat 48-0 by Lithuania over the weekend, but drowned their sorrows in a mass striptease (and a rousing rendition of "Singin' in the Rain") in a public square in Vilnius, which, of course, was filmed by a bystander and posted on the internet.
Reuters reports: "The video, put out by a blogger on social community website Virb and then taken up by the Lithuanian news portal Delfi, showed a group of 20 men singing and stripping off their clothes on a street in central Vilnius, while people in a nearby bar clapped and cheered. 'Yes, these were the men we played against on Saturday … I guess the defeat could have prompted them to do that,' Lithuanian rugby federation President Aleksandras Makarenka told Reuters. Delfi quoted the Vilnius police chief as saying stripping in public could be considered an act of hooliganism — but by then the Austrian team had gone home."
Let's hope they lose more often.
Watch it, AFTER THE JUMP (warning: portions NSFW)…
(warning: NSFW) And a bit more here.
Previously
Just Cavalli Underwear Campaign Features Italian Rugby Beefcake [tr]
Sportrait: Danny Cipriani [tr]
British Rugby Star Ben Cohen Says Sport Ready for Gay Player [tr]
Rugby Ad: From London to Paris, with Love [tr]