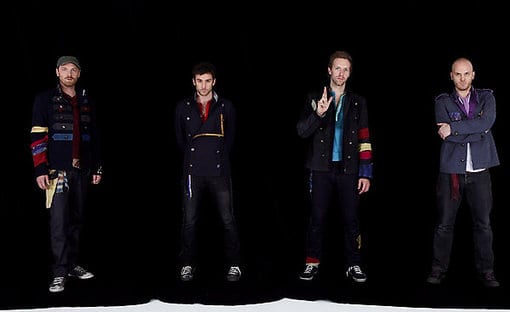 Robbie Daw presents a weekly pop music update here on Towleroad! Robbie runs his own site called Chart Rigger.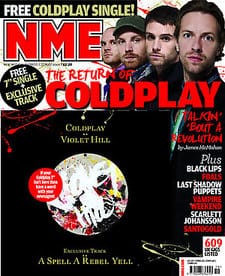 Last week Coldplay offered up "Violet Hill," their first single off forthcoming album Viva La Vida, Or Death And All His Friends, as a free download for seven days on their official site. It was reportedly downloaded by two million people, where "It would have outsold the whole of last week's [UK] top 40 (singles) four times over." The band continue to give the track away this week — at least in their home country — as a 7″ vinyl single packaged in with British rock journal New Musical Express.
NME usually washes up on these shores in bookstores and newsstands with an inflated import price. The Coldplay issue offers new photos of the band and a brand new look for the mag: "Not only have we launched a brand spanking new-look magazine this week that's seen us strip everything back to let the words and photography shine through, we've also added a whole load of new features to give you even more news, bands and gigs than ever before. Plus, to top it all off, the pièce de résistance is a FREE, 7-inch vinyl copy of Coldplay's new single, 'Violet Hill.'"
Back here in the States, "Violet Hill" and a "single edit" of new track, "Viva La Vida", were added to iTunes. The latter is being offered for free with pre-orders of the album.

Yee-owch! Here's an interview MTV's John Norris did with Madonna and Justin Timberlake. Madge doesn't seem too jazzed to be talking to Norris, as she gets a tad frosty with him toward the end. (Of course, that might expain why the awful, out-of-key singing moment was then used in the montage.)
Meanwhile, with first-week sales of 280,000, Billboard reports today that Madonna's Hard Candy has topped the album chart, giving her a seventh #1 on that tally. As far as female artists, only Barbra Streisand has had more chart-topping albums, with eight total.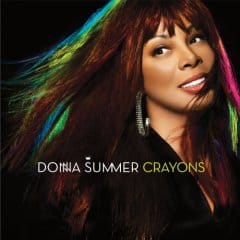 Amongst others, Donna Summer worked with producer Greg Kurstin on Crayons, her first album of original material in 17 years (due out May 20). Kurstin recently produced tracks on Kylie Minogue's X. "Stamp Your Feet," the current single off Crayons, pretty much makes you wanna do just that, though they could have done without the video.

New Stephen King/John Mellencamp musical originally set for a 2009 debut has been delayed.

Last show ever by The Police to benefit New York arts, while the band also donates to Bloomberg's MillionTreesNYC.

In a one-star (out of five) review, the New York Daily News assesses Clay Aiken's new CD, On My Way Here: "From the new songs' lyrics, we discover that Aiken has 'seen the best and the worst' of life. He has walked 'through fire,' 'risen from the ashes' and felt 'the weight of the world' on his shoulders. Along the way, he also discovered that 'what doesn't kill you makes you stronger,' which finally led him to realize, 'by the grace of God go I.'
If the universe holds any more survivor cliches, I've never heard them."

What are your iPod habits and desires?
"Take A Bow", a new single from Rihanna off the upcoming re-release of Good Girl Gone Bad. (Not a Madonna cover.)
Gavin DeGraw's self-titled third album.
Home Before Dark, Neil Diamond's latest set of original material, produced by Rick Rubin.
Sony's 20th anniversary enhanced CD/DVD version of Midnight Oil's Diesel And Dust.
The always-charming Toby Keith's 35 Biggest Hits.