President Raul Castro's daughter Mariela, an outspoken advocate of gay rights, presided over a massive state-backed rights rally over the weekend, to mark the International Day Against Homophobia: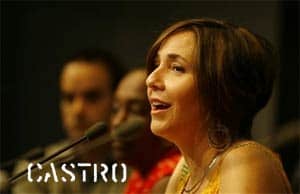 "The meeting at a convention center in Havana's Vedado district may have been the largest gathering of openly gay activists ever on the communist-run island. President Raul Castro's daughter Mariela, who has promoted the rights of sexual minorities, presided. 'This is a very important moment for us, the men and women of Cuba, because for the first time we can gather in this way and speak profoundly and with scientific basis about these topics,' said Castro, director of Cuba's Center for Sexual Education. Mariela Castro joined government leaders and hundreds of activists at the one-day conference for the International Day Against Homophobia that featured shows, lectures, panel discussions and book presentations. A station also offered blood-tests for sexually transmitted diseases."
MSNBC also reports that Brokeback Mountain was broadcast in prime time on Cuban state television Friday night. A draft gay rights bill is expected to be considered by the Cuban parliament in June.
A brief clip from CNN's Headline News, AFTER THE JUMP…