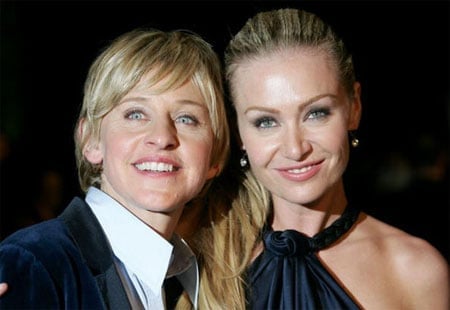 The first high-profile couple to take advantage of California's big Supreme Court decision yesterday, Ellen DeGeneres and Portia de Rossi announced they're getting married during the taping of Ellen's show yesterday.
TMA reported last night: "A spy in the audience of this afternoon's taping of the 'Ellen DeGeneres Show' tells us that after Ellen mentioned today's California Supreme Court ruling striking down the state's ban on gay marriage, she surprised everyone and announced that she was going to tie the knot with longtime girlfriend, actress Portia de Rossi. Portia was in the crowd and after she made the announcement, the studio audience went wild, giving the two a huge standing O."
The show will air today
The court's decision doesn't go into effect for at least 30 days.