Two men charged for sodomy using "crimes against nature" law in North Carolina.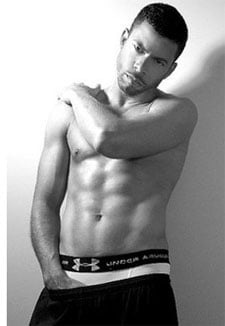 Did Al Reynolds, Jr. get some new Manhunt shots?

Cleveland-bound pilot sees "an object with a flaming tail and a trail of smoke" fly past cockpit shortly after take-off from Houston: "The FBI's Joint Terrorism Task Force is involved in the investigation, but officials said they believe the object seen by the pilot just east of Houston's airport on Monday was a model rocket."

First California same-sex marriages to take place on June 14?

POLL: More than half of Californians support ballot measure ban on same-sex marriage. "Fifty-four percent of registered voters would back the measure, according to the survey by The Los Angeles Times and KTLA-TV. Thirty-five percent oppose the proposed measure, which is expected to be on the November ballot. The measure, sponsored by a coalition of groups that favor traditional marriage, would define marriage as 'between a man and a woman,' and effectively overturn a May 15 decision by the California Supreme Court that voided two state laws that forbade recognition of same-sex marriages. The poll, published on Friday, found 52 percent disagreed with that decision while 41 percent agreed."

Mario Lopez hits the beach…

Alan Ball developing British prison drama Bad Girls for HBO.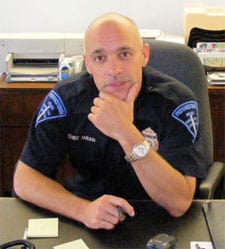 New Provincetown police chief Jeff Jaran promises fresh focus on preventing hate crimes.

Glitterbox: Derek Jarman DVD box set to be released. "Mr. Jarman once lamented that heterosexuals had so colonized and despoiled the screen — his actual phrasing was less polite — 'that there's hardly room for us to kiss.' He made it his mission to create that room."

Excerpt from Hiding in Plain Sight, the story of Raymond Burr's secret gay life: "…Raymond had been living a closeted life in Hollywood for over a decade without even the whiff of anything 'untoward' about his lifestyle. Part of that had to do with his status as a supporting actor in the shadows, out of the spotlight's direct glare. Leading-man types—Cary Grant, Randolph Scott, and Errol Flynn among them—were grist for the rumor mill, but Raymond had always flown under the radar. Until now. His much-publicized relationship with Natalie Wood helped his straight-arrow image, and he was well liked among the major gossip columnists, especially Hedda Hopper. And with her sonny boy making a name for himself on Perry Mason, Hedda had extra incentive to ensure Raymond's name was kept away from 'those' rumors…"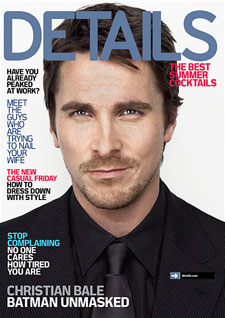 The Details on Christian Bale.

Massive: Sao Paulo Gay Pride parade draws between 3 and 5 million people, but has it become just a dangerous street carnival?

Pete Wentz sells advertising…on his face.

Leona Lewis and David Beckham to close Beijing Olympics with London hand-off.

Birmingham, Alabama Mayor Larry Langford says he won't interfere with plans for a gay pride parade there on June 7: "Langford on Friday he would not sign a proclamation, allow banners on city property or sign a parade permit. The mayor said he rejected those requests because it was inappropriate for government to endorse a lifestyle. Today Langford said he will not block the police from issuing the parade permit. That permit is not normally signed by the mayor. Previous mayors have quietly signed the proclamation and allowed the banners. 'I thought I had stated my position very clearly. If I were to sign the permit to put up banners on city right of ways I would be condoning that which I don't condone,' he said. 'To give a proclamation is totally under the purview of the mayor.'"

If you're a wounded bird and Jodie Foster's around, don't look weak.

Drink up: Diet Coke to drop DNA-damaging additive Sodium Benzoate.