Michelangelo Signorile talked to fake news reporter/escort Jeff Gannon on his radio show yesterday about the GOP smear machine coming after Scott McClellan over his tell-all memoir and the possibility of attacking McClellan on gay rumors that have surfaced in the past.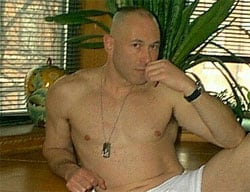 Gannon said yesterday that he "knew Scott [McClellan]better than any other White House correspondent or Washington reporter." He didn't elaborate to Signorile on the context of that relationship, but suggested that attacks were coming and are fair play.
Writes Signorile: "I found this odd, considering that Gannon has been outraged in the past at even the speculation about his own past, calling it horrible prying, and McClellan did get married in 2003, and Gannon, as reported back during his debacle, had sent McClellan a wedding card! You'd think he'd adamantly deny it — as someone who claims to know McClellan — and vehemently attack the speculation."
Listen to it here.