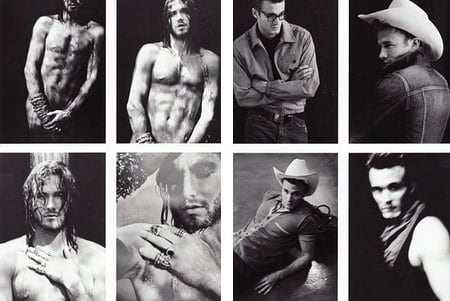 Grand Theft Auto star and fashion designer/photographer Karl Lagerfeld is launching his new book Metamorphoses of an American at a New York gallery opening tonight. It features five years worth of photos of model, sometime Manhattan real estate agent, and occasional private part flasher Brad Kroenig. Lagerfeld's attachment to Kroenig is apparently as strong as his attachment to Diet Coke — he's always on hand.
Maureen Orth yesterday posted a piece on the Lagerfeld/Kroenig relationship for Vanity Fair yesterday:
"'Have you met Brad?' Lagerfeld asked. Brad Kroenig, a top male mode who, at 6 foot 1, looks vaguely like Matthew McConaughey, was sparkling in the same silver sequined jacket he'd worn to the Met Costume gala the night before. He and Lagerfeld attended New York's 'party of the year' together, and they had just arrived in Paris the afternoon I saw them, none the worse for wear. Kroenig, an easy-going 29-year-old with the uncanny ability to transform himself to look like everyone from James Dean to Errol Flynn, is the American whose 'metamorphoses' Lagerfeld has been documenting for the past five years. 'I thought it would be interesting to follow the physical evolution of someone,' the designer told me in his rapid-fire German accent. 'Without him knowing it, he has an unbelievable range. It's a kind of gift. He knows nothing about these things. It's fun for somebody to skate on these images and interpretations without being an actor—the characters, the situations, the attitudes, while at the same time to stay a completely modern all-American.'"
New York mag has a preview of the book.