Boyband mogul Lou Pearlman was sentenced to 25 years in prison today for scamming millions of dollars from investors and banks over a period of two decades: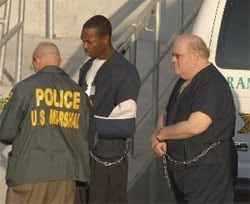 "U.S. District Judge G. Kendall Sharp noted that many victims were Pearlman's relatives, friends and retirees in their 70s or 80s who lost everything. 'The sympathy factor just doesn't run very high with the court,' Sharp said. However, the judge said he would reduce Pearlman's sentence by one month for every $1 million returned to investors. It wasn't clear how, or if, investors would ever be compensated. 'I want to say clearly that there's no pot of gold out there,' defense attorney Fletcher Peacock said. Prosecutors allege Pearlman scammed individuals out of an estimated $200 million, and banks out of another $100 million."
Of course, it wasn't just the investors who the creep targeted along the way.