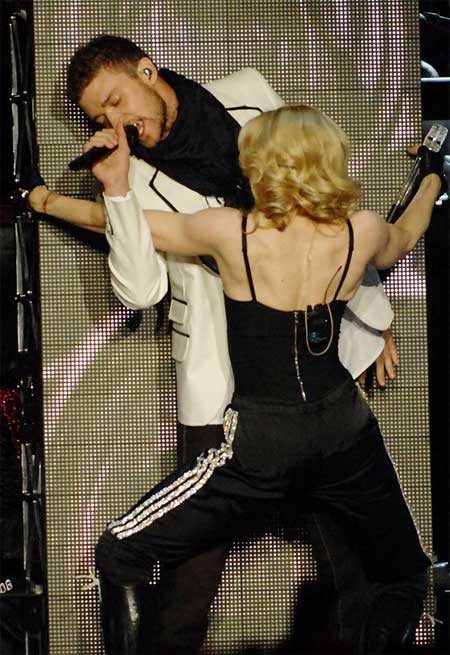 We sent Towleroad correspondent Josh Helmin to cover M Dolla's gig last night in New York. Here's his report, along with some YouTube clips we discovered that may vanish quickly. So get a taste quick. Josh is one half of Josh & Josh are Rich and Famous, and co-produces our Towleroad TV segments. Unfortunately, we couldn't get her Madgesty on Towleroad TV – yet – but we'll have another segment of that coming up soon.
Last night Madonna delivered a six-song, 32-minute high-intensity performance at the Roseland Ballroom in midtown Manhattan, in front of an estimated crowd of 2,200. Many of those attending camped out before sunrise for a chance at the free tickets handed out that day. (The rest of the lucky attendees won entrance through Z100, Verizon, or Madonna's online fan club.)
A few minutes after ten o'clock Madonna appeared onstage on a throne, blonde hair lightly curly and clad in black pants and top, to deafening screams from the audience. Those standing on main floor crushed forward to get closer to her Madgesty, and thus my already good spot turned into a position about twenty-feet from the Material Girl herself.
After the first two songs, both from her new album Hard Candy (out this week), the audience went crazy as the first strains of "4 Minutes to Save The World" began. When Justin Timberlake popped on stage moments later the response was so vigorous that it was briefly impossible to hear the song. Madonna and Justin's choreography had them grinding against each other and pacing the stage while singing their #1 iTunes hit.
After Justin left the stage Madonna slung her guitar across her chest and addressed the crowd. "This next song is for all of you that I saw last night sleeping on the sidewalks waiting to get tickets," she said, before launching into a hard rock remix of "Hung Up." Throughout the night she seemed ready to debut her new guitar skills, choosing to play her instrument during three of the night's songs, and she looked far more comfortable doing so than in previous performances.
What perhaps made the performance so enjoyable was the clear impression that Madonna herself was having a great time. The love coming from the audience was unmistakable. She also looked amazing, especially considering that her 50th birthday is coming up in August. Her arms were, as usual, perfect ellipses of rock hard muscle (better than mine are ever going to be, I can tell you that much). And, to her credit, she also sang live. She certainly had backing vocals, but the effect of singing live was appreciated, especially considering the number of performers today who choose to lip synch, even when the choreography isn't half as vigorous as Madonna's.
The one snafu of the evening for Madonna came during the middle of "Hung Up" during which she briefly began singing the wrong words. She tried to cover for a second, and then looked behind her momentarily, before figuring out where the song was and jumping right back in without losing her composure. It was a quick error, and seemed to be forgiven immediately.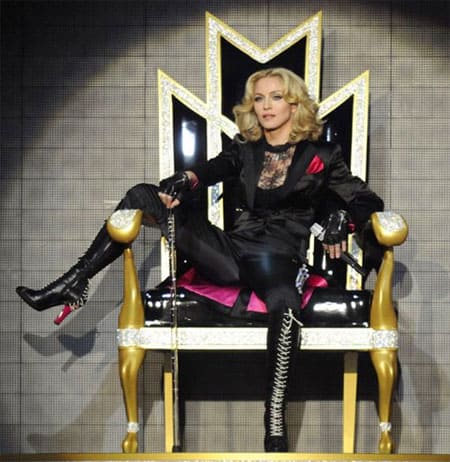 Madonna's Roseland Set List
Candy Shop | Miles Away | 4 Minutes
Hung Up | Give It 2 Me | Music (Fedde Le Grand Mix)
Clips via Madgetribe.