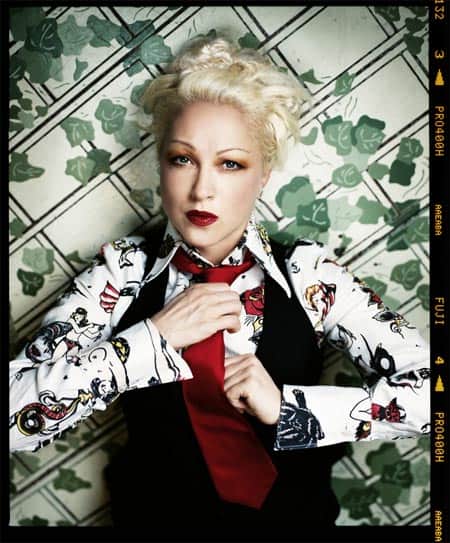 Robbie Daw presents a weekly pop music update here on Towleroad! Robbie runs his own site called Chart Rigger.
Many of you — yes, that means you, buster –are probably reading this while at work. But while some of us are counting the minutes as the day wears on, as Cyndi Lauper points out in a Q&A with Newsweek, things could always be worse.
The singer discusses some of the odd jobs she had before she became a successful recording artist: "I tried to work in an office. Apparently, my clothes weren't right. I was a Gal Friday the 13th. I would answer phones and people would call up very upset. Then they'd call back screaming and yelling because I had to go to the file room and I would get sidetracked. I used to fall asleep reading the mail. I didn't want to. But it was so boring to me and I hated it."
One job Cyndi might be more happy to do is collaborating with Colleen Jackson and New York's West End Intergenerational Residence to create the True Colors Residence, "a permanent supportive housing program for homeless LGBT youth 18-24 years old."
Lauper notes in an open letter: "In New York City, a very disproportionate number (up to 40%), of homeless youth identify as LGBT. Even more disturbing are reports that these young people often face discrimination and at times physical assault in some of the very places they have to for help. This is shocking an inexcusable… We'll be building from the ground up so our residents will have a brand new, modern building with studio apartments for each resident and both indoor and outdoor community space to socialize or attend education and recreation programs. Each resident will be responsible for paying affordable rent based on their income and will receive ongoing assistance in obtaining employment best suited to their individual interests and skills."
As well, Cyndi Lauper's first studio album of original material in 11 years — Bring Ya To The Brink — will be released in two weeks, from Epic. The first single, "Same Ol' Story," was added to iTunes last week.
In 2001, Lauper was set to release an LP called Shine stateside, but plans with the label fell through, and the album eventually only saw the light of day in Japan, while she self-released an EP of some of the tracks domestically a year later.

Props to Towleroad reader Crispy, who in last week's music column commented that I forgot to mention Nine Inch Nails' digital release of new album The Slip, completely free of charge, on the band's website: "[lowercase sic] as a thank you to our fans for your continued support, we are giving away the new nine inch nails album one hundred percent free, exclusively via nin.com. the music is available in a variety of formats including high-quality MP3, FLAC or M4A lossless at CD quality and even higher-than-CD quality 24/96 WAVE. your link will include all options – all free. all downloads include a PDF with artwork and credits. for those of you interested in physical products, fear not. we plan to make a version of this release available on CD and vinyl in july. details coming soon."
As a fellow Western Pennsylvanian who grew up only a county away from him, I hope Trent Reznor can forgive me for not mentioning it sooner!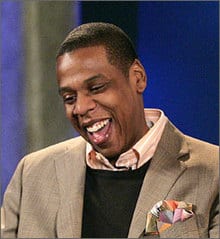 Can you name three reasons why Dannii is better than Kylie?

It's Jay-Z vs. Noel Gallagher over a "controversial" Glastonbury headlining gig: "We don't play guitars, Noel, but hip-hop has put in its work like any other form of music. This headline show is just a natural progression."

But if jetting off to England to see Oasis and Jay-Z's pissing contest isn't your thing, why not catch this summer's Regeneration Tour, headlined by the Human League and featuring Belinda Carlisle, ABC and Naked Eyes on the bill? Those heading to dates on the West Coast will be lucky enough to catch Pete Burns of Dead Or Alive, who's joining the tour from August 2 – 11.

Finally — what we've all been waiting for! Gnarls Barkley's Cee Lo Green and Jack Black to cover disco classic "Kung Fu Fighting" for Dreamworks' Kung Fu Panda.

Not content to just give away their music for free, Coldplay now doing two gigs free of charge in New York and London next month.

Has it really been 14 years? Below is the video for the #1 single on Billboard's Hot 100 chart this week in 1994:
Jeez, and they thought life was demanding without understanding in the '90s…! Ace Of Base's "The Sign" initially spent four weeks at #1, beginning in March of '94, before being knocked off by R. Kelly's "Bump N' Grind." After a four-week stretch for the latter, "The Sign" returned to the top for two more weeks that May.
The Swedish quartet's same-titled album would go on to tie with Disney's Lion King soundtrack for the year's best-seller, at 7 million copies moved.

TODAY'S NEW RELEASES: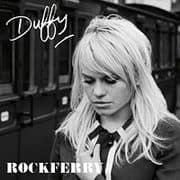 Death Cab For Cutie's Narrow Stairs. (And, hey, how about a new Postal Service album while you're at it, Ben?)
We Sing. We Dance. We Steal Things., a collection of three EPs Jason Mraz had released in recent months.
New singles from the reunited New Kids On The Block ("Summertime") and Kaskade & Dedmau5 ("Move For Me").
Two new singles from The Cure (The Only One"" and "NY Trip"), who plan to release songs on the 13th of each month until the August release of their as-yet-untitled 13th album.
Brit blue-eyed soul singer Duffy's debut LP, Rockferry, which contains her current hit, "Mercy."
11, the appropriately-titled 11th studio album from Bryan Adams.
Hot Chip's four-song EP for single "One Pure Thought."
A remix EP for American Idol runner-up Blake Lewis' woefully overlooked "How Many Words."