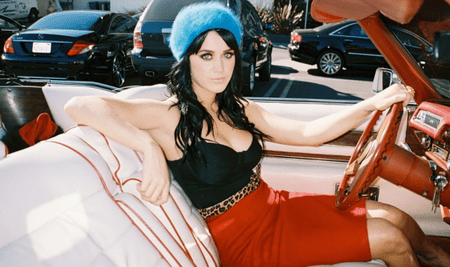 Robbie Daw presents a weekly pop music update here on Towleroad! Robbie runs his own site called Chart Rigger.
Beginning last year, I'd been getting pitches from a publicist dealing with online press for an artist called Katy Perry and her song "Ur So Gay." To be completely honest, I just didn't dig the song. But as the title might imply, I also started wondering whether or not I was right to feel a bit offended by the lyrical premise — a female telling off her H&M scarf-wearing boyfriend with the insult, "You're so gay and you don't even like boys," implying that he'd rather spend time with his friends and "MySpace-ing," etc. I basically chalked it up to me being a bit uptight, the song not being my thing, and moved on.
But the pitches kept coming. Soon Katy was signed to Capitol Records, a major label, and the press releases started mentioning Perez Hilton was touting her as a next big thing for summer 2008. In an interview with Blender, Perry, who turns out to be a pastor's daughter, exclaims, "I'm completely outrageous and I'll do anything for attention!"
Now the singer's got a heavily-promoted single called "I Kissed A Girl" (not a Jill Sobule cover), though it doesn't have a video. But rather than expound upon what I think of a seemingly heterosexual 23-year-old woman singing about her drunken female conquest, "I don't even know your name, it doesn't matter/You're my experimental game," I thought I'd turn it over to see what you, the Towleroad reader, think.
Are Katy Perry's lyrics offensive, or are they just silly, gimmicky pop songs by a self-proclaimed attention seeker to be taken with a grain of salt? Clips of "Ur So Gay" and "I Kissed A Girl" are below.
Two things to think about: 1.) A bit of digging finds that Katy Perry released an album of Christian music a few years back under the name Katy Hudson. 2.) Would your thoughts on the level of offense, if any, be different if it were a straight male artist singing either song (particularly if the latter were "I Kissed A Boy")?
Incidentally, Katy Perry's album, One Of The Boys, is out in June.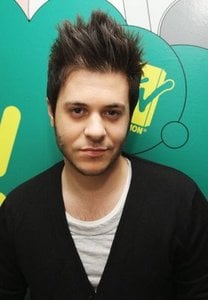 Hip hop star Nas drops the original controversial title for his new album.

The Pet Shop Boys are working on new material with frequent Sugababes' collaborators Xenomania. Meanwhile, clips from a 2006 episode of U.K. program The South Bank Show on Dusty Springfield have popped up on YouTube, wherein the Boys discuss what it was like working with the singer on her 1991 album, Reputation.

Recording artist Ferras (pictured left) — whose track "Hollywood's Not America" you likely recognize as this season's American Idol good-bye song — took to his MySpace blog Friday to dedicate the new single "Liberation Day" to the overturning of California's ban on same-sex marriage: "YAY!!!!!!!!!! ITS LIBERATION DAY EVERYONE!!!! WAKE UP!!!!!! It's 'LIBERATION DAY' for GAY PEOPLE everywhere!!!! The road to liberation day has been a long one, filled with tears and a great fight, but one that thankfully does not include giving up hope. Today, the end of the road is a little bit closer. Today, two people in love can finally be recognized just like everyone else. Its about love, acceptance and life. This is not only about a piece of paper, its about human rights. Its about rejoicing in the beauty of each and every person living on this planet! Its about individuality and the right to exist! Gay people are citizens just like everyone else and should be afforded the same rights. Without recognizing gay marriage as a legitimate expression of love, partnership and equality, we are still living in the dark ages-communicating a message of intolerance and hate. It's 2008. Its a new time. A new era. A time to wake up and 'throw your illusions away.' May all beings rejoice and be happy, as we get one shot- one life- to be all we can be, be the best humans we can be and to love and be loved equally, as we all bleed the same blood. To all my gay and lesbian peeps- this ones for you. All my love and respect, FERRAS"

Darren Hayes will appear as a guest judge on the upcoming season of Austalian Idol, along with fellow Aussie Tina Arena. The London-based singer will help suss out talent in the U.K. for the program: "As an Australian entertainer living in London I definitely have a soft spot for Aussies trying to make it overseas. Rather than judging people, I'm going to be looking for that little bit of magic that someone once saw in me."

Janet Jackson's going on tour: "It will definitely be a big production but it will definitely also be something that I've never done before, that people have never seen from me before." Don't they all say that?

Jennnifer Hudson's album due out in September: "I think people will be pleasantly surprised, because it shows a side of my work that no one has heard before." Now, hold on a second…!
The Ting Tings' debut set, We Started Nothing. The dancey pop/rock duo have the current #1 single on the U.K. chart with "That's Not My Name," while they're also enjoying a sizeable stateside hit with "Shut Up And Let Me Go," thanks to its inclusion in an Apple commercial.
Donna Summer's Crayons, her first studio album of pop material since 1991's Mistaken Identity.
Stop Drop And Roll from Foxboro Hottubs. The big "secret" is that it's actually Green Day doing punk-infused, '60s-sounding bubblegum.
Liverpool electro quartet Ladytron's fourth LP, Velocifero.
Actress Scarlett Johansson's album of Tom Waits covers, Anywhere I Lay My Head.
Jesse McCartney's Departure. McCartney is currently enjoying the success of having co-written Leona Lewis' "Bleeding Love" with OneRepublic's "Ryan Tedder."
New singles from Aimee Mann ("Freeway"), Solange ("I Decided, Pt. 2") and Judas Priest ("Visions").