A gay couple formerly from Secaucus, New Jersey has filed a civil suit against the town, claiming that they were harassed by a group of firefighters who were partying at the firehouse adjacent to their residence. The incident occurred in April 2004.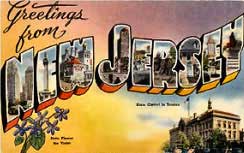 The Jersey Journal reports:
"On the morning of April 25, 2004, a gay couple living in Secaucus was awakened by the sound of raucous partying at the firehouse next door. After one of the men, Timothy Carter, approached a group of firefighters about 1 a.m. asking them to keep it down, they allegedly began berating him. When he returned to the house, what the couple described as a drunken mob shook their fence, banged on the side of the house and loudly threatened to kill the men and their dogs. Despite complaints to the town, Carter and his partner, Peter De Vries, allege little was done to discipline the firefighters and said they lived in constant fear before moving away…
… In opening statements yesterday before a Superior Court jury, Mullin said the firefighters shouted derogatory, anti-homosexual epithets and death threats. 'They're terrified,' Mullin said of the couple. 'They're paralyzed with fear.' Police arrived quickly but the hate crime was never fully investigated by Secaucus officials, according to court papers filed by the couple. But police made no arrests and no one from the firehouse was thrown off the volunteer force. In their defense, town officials noted the prompt response by police and the fact that the firefighters were officially off-duty at the time."
At the time, a hate crime probe was opened and then cancelled due to lack of evidence. The couple claims post-traumatic stress disorder and is seeking unspecified damages.
Gay couple: Secaucus violated our rights [jersey journal]