Sam Adams, an openly gay man whose family lived on "food stamps and public housing" as he grew up, has been elected Portland, Oregon's mayor. As such, he'll be the first openly gay mayor of a top-40 U.S. city.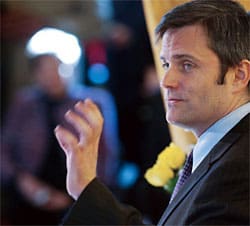 The Oregonian reports: " The city commissioner soundly defeated 12 other candidates Tuesday to assume the top office in the city and one of the tallest bully pulpits in the Pacific Northwest. He captured 58 percent of the vote to avoid a November runoff against travel agency owner Sho Dozono. Adams, 44, won by stressing specifics: He promised to work with school leaders to cut the dropout rate, make Portland a leader in environmentally friendly businesses and use the Portland Streetcar and better planning to spur urban renewal."
You may recall I posted about Adams last September as he was being targeted by Bob Ball, a gay Portland real estate developer who also had an interest in the mayor's office, in an ugly, unsubstantiated smear campaign involving an underage intern. Adams, obviously, survived that attack.
Adams takes over for outgoing mayor Tom Potter in seven months.
A very brief clip from the local news, AFTER THE JUMP…