D.C. Madam commits suicide in Florida…Whitney Houston's daughter attempts…

HRC's VP of Programs, David Smith, talked to Michelangelo Signorile about why the Human Rights Campaign is not endorsing anyone in the Oregon Senate race, why they support Susan Collins, the Maine Republican who backed various antigay judges and Supreme Court justices, and why they're not endorsing Jim Neal of North Carolina. Audio here.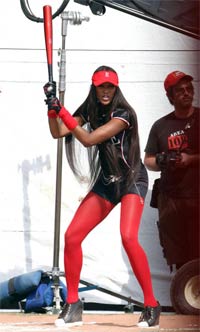 Batter Up: Who is Naomi Campbell gonna lay into next?

Scientists report success in blocking HIV infection in lab by inactivating protein expressed in key immune cells.

Misconception that AIDS is a gay disease fueling infection rate in Singapore.

Read John McCain's 2003 speech he delivered on the Senate floor on the occasion of "Mission Accomplished": "Operations Iraqi Freedom and Enduring Freedom demonstrated to the world what we saw just 12 years ago. We went to war as the most combat-ready force in the world. The value of that readiness is clear. We won a massive victory in a few weeks, and we did so with very limited loss of American and allied lives. We were able to end aggression with minimum overall loss of life, and we were even able to greatly reduce the civilian casualties of Afghani and Iraqi citizens."

AfterElton is casting about for the world's 100 hottest men.

Sydney Lord Mayor Clover Moore slams Archbishop of Sydney, Cardinal George Pell over attitude toward gays: "Christ was a radical. He despised the Establishment and the Pharisees. He threw the money-changers out of the temple. I liken certain church officials today to the Pharisees that Christ took exception to."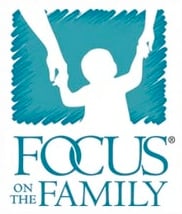 Focus on the Family's new logo interpreted.

Vanderbilt University makes strides in reaching out to LGBT students: "There will be 'five immediate key action steps,' Dean of Students Mark Bandas wrote in a press release: opening an Office for GLBT Life; hiring a director of GLBT life; working with various campus groups, especially admissions offices and The Commons, to 'ensure that members of the GLBT community understand that they are welcomed and valued members of our community'; moving to amend the non-discrimination policy to include gender identity and expression; and continuing to investigate additional recommendations made by the GLBTQI Student Issues Committee."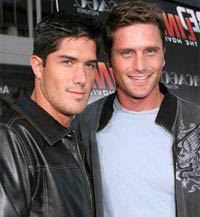 Reichen recants rant: "Sorry everyone for being childish. We all experience pain, but venting on MySpace isn't right. I'm sorry and I regret it. I was emotional and I don't feel any of the things I've said. And whoever I've dated that it could have been directed toward is and was never the way I may have described. I was venting on life and frustration and I apologize for offending anyone or for making myself look childish."

Carrie Underwood gets liquored up in Vegas for new video…

Jason Lewis doesn't understand the haters: "In the world we're living in, gay people are still horribly discriminated against. Why does anybody need to be so affected by someone else's happiness? Some of these people show up 20 years in a row at the county clerk's office [to get married] knowing they're going to be turned down. That's dedication and love…These are decent people."

Sally Kern's rival in the upcoming election amassing a major war chest.