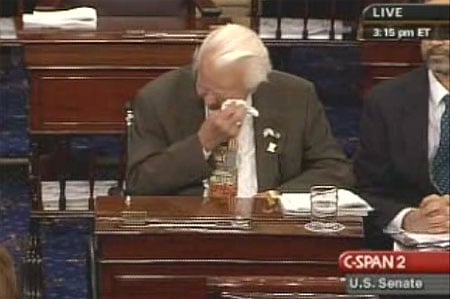 West Virginia Senator Robert Byrd broke down on the Senate floor yesterday, sobbing through an emotional tribute to Ted Kennedy who, of course, was discovered to have a malignant brain tumor after suffering a seizure over the weekend.
Reactions to Kennedy's conditions prompted an outpouring of reaction across the nation in admiration of his service.
There were also some extremely distasteful reactions from the far right.
Said Byrd: "I want to take a moment to say how distraught and terribly shaken I am over the news of my dear friend, my dear, dear friend, Ted Kennedy…Ted, Ted, my dear friend, I love you, and I miss you."
Watch it, AFTER THE JUMP…
Byrd, the longest-serving member of the Senate and a former member of the KKK, announced his support for Barack Obama on Monday.