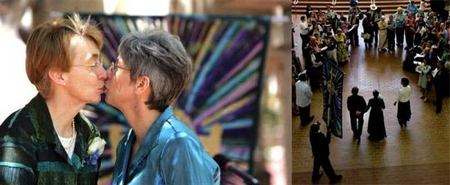 Last week I posted about the anti-gay vote and subsequent 300-strong protest that went down at the United Methodist Church's convention in Fort Worth, Texas.
Methodist delegates voted to keep the statement that the practice of homosexuality is incompatible with Christian teaching, reject a measure that would have changed the church's definition of marriage to include same-sex unions, and approve a resolution opposing homophobia and discrimination against lesbians or gays.
As another act of defiance, 200 people attend the commitment ceremony of Julie Bruno, right, and her partner Sue Laurie, at a park across from the convention center where the vote was held.
The AP reports: "At the ceremony, some said that acceptance of gays in some churches encouraged them but that the denomination as a whole had a long way to go. No clergy member presided over the commitment ceremony of Julie Bruno and Sue Laurie of Chicago, a couple for 25 years, although about three dozen ministers attended…'The United Methodist Church has been and continues to be both blessing and burden to us,' said Julie Bruno, one of the women getting married. 'When the church turns her back on us, withholds blessing from us, does God withhold blessing? Does God stop loving us? We continue to be the church to and for each other. We continue to be the instruments of God's light and love.'"
Previously
300 Protestors Disrupt Methodist Convention Over Anti-gay Vote [tr]