Activists' Paris arrest on International Day Against Homophobia leads to meeting with Human Rights Minister, Rama Yade, and promise to push for "a European initiative calling for the universal decriminalisation of homosexuality" at the United Nations.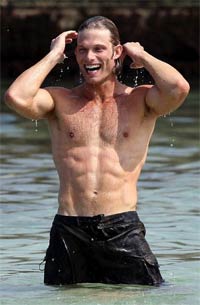 Chris Carmack plays to his strengths.

Living Lohan to win award for most mind-numbing reality trash of the summer — watch.

Washington Post op-ed writer Kathleen Parker pens offensive column on Obama and Edwards' 'gay' relationship.

Jack Mackenroth not returning to Project Runway next season.

When Ellen wears a certain jacket, watch for a gay rights alert.

Catholic church offering "ex-gay" therapy in Poland: "When you want a candy for example, you can resist and have it later. And you can trade it for a piece of chocolate."

Maryland senator Richard Madaleno hopeful at state's same-sex marriage prospects.

Gay Canadian peace activist barred from speaking at Catholic church because of his views on marriage. Bishop: "Everyone is always welcome to come to our church, but not everyone is welcome to speak in front of our congregation. If someone wanted to come talk about the environment, which is a wonderful thing, but was actively pro-choice (on abortion) we wouldn't allow them to present either. It just doesn't add up."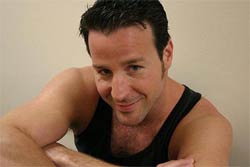 The Big Gay Sketch Show's Paolo Andino talks Cuba, cash, and cookies with QueerCents: "Both my mother and father started from nothing when they came to this country as teens. Castro only allowed women to take two dresses and a pair of shoes out of the country. My parents didn't believe in an allowance, I mowed lawns from the age of 10 to earn some spending cash. My favorite thing to buy was a half-gallon of Heavenly Hash Ice Cream for the family — I always liked to splurge!"

Tina Brown working on spy film about Noel Coward.

Jake Gyllenhaal steps out in spandex again. Is a marriage proposal in the works?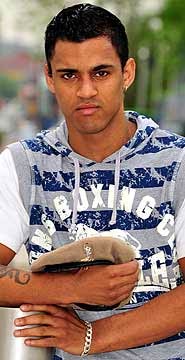 Gay British soldier claims he was dropped from the Special Air Services (SAS) over his sexuality: "Army sources expressed anger at the claims by former Corporal Kenna, saying that he was never a proper member of the SAS, but was 'a general duties soldier' in support of the regiment at Hereford. 'He wasn't required to pass the SAS fitness tests and failed the one he did do,' one source said. The sources said the corporal was ousted from the special forces because it was considered he was unsuitable for that line of work, although he had served in the SAS for two years, including tours in Iraq."

Freaks come out for San Francisco's Bay to Breakers race.

Christian registrar in the UK taking government to tribunal over refusal to perform same-sex civil partnerships: "Miss Ladele, who has worked in the registration service for nearly 16 years, said she held 'orthodox Christian beliefs' about marriage and same sex unions. She said in a statement: 'The law places a duty on local authorities to provide civil partnership registration, but does not require all registrars to take part in the registration process. My local authority provides a civil partnership service, but it is one that it agrees does not actually require my involvement. Since 2004 I have therefore been asking to be excused from civil partnership duties, allowing my colleagues to do these duties instead."

The president of Poland, the leader of Uganda, and the UK Home Office named to the Human Rights Hall of Shame "for their actions in the past year in endangering LGBT people's dignity, families, and safety." Here are last year's winners.

Man dies in spitting contest.