Late last week, Puerto Rico voted down a constitutional ban on same-sex marriage, the Advocate reports:

"Rep. Victor García San Inocencio says Resolution 99 failed on Thursday to make it to the house floor for voting, effectively killing the proposal for this legislative term. The measure would have amended the U.S. territory's constitution to establish that marriage is between a man and woman and that no other types of unions could be recognized. Thus, it would have made it harder to allow civil unions or grant marital rights to unmarried couples."
Meanwhile, a Cayman Islands lawmaker has proposed a sinister measure: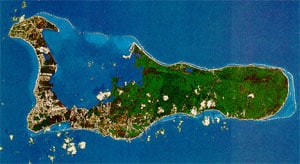 "Leader of the Opposition McKeeva Bush has filed a Private Members Motion proposing an amendment to the Marriage Law that would define marriage in the Cayman Islands as being between a man and woman. The motion also proposes the Marriage Law only recognise a person's gender at birth and that no other form of civil union be allowed in the Cayman Islands to recognise same–sex partnerships. The motion was filed with the Legislative Assembly Monday and Mr. Bush wants House Standing Orders suspended to allow the motion to be dealt with during the current meeting of the House."
Given recent events, it's a surprise a ban on same-sex kissing wasn't proposed as well.