The L.A. Times reports that more marriage licenses were issued the first day of same-sex marriage in California than in a typical June week: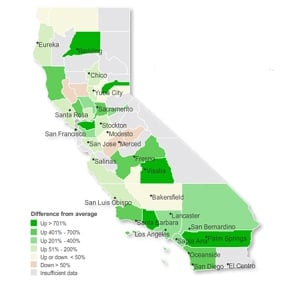 "Just over 2,700 marriage licenses were issued in the state between 5:01 p.m. on Monday — when the state Supreme Court's ruling lifted the ban on gay marriage — and the end of business on Tuesday. The statewide average for a whole week in June is about 2,460. Topping the list is Los Angeles County, the state's largest with a population of about 9.9 million, which issued one license on Monday evening in Beverly Hills and 648 Tuesday. San Diego County, population about 3 million, was second with 230. San Francisco County, population 765,000 was third with 212. Officials in Sacramento County, which usually issues about 25 licenses a day, issued 134 by closing time at 8 p.m. Tuesday. The county has 1.4 million residents."
In Los Angeles County, records were set: "Los Angeles County Registrar-Recorder/County Clerk (RR/CC) Dean Logan said yesterday that 648 marriage licenses were issued in Los Angeles County as of 5:00 p.m. on June 17, 2008. In addition, 279 couples held marriage ceremonies at the RR/CC headquarters and district offices throughout the city. Prior to the implementation of same-sex marriage licensing, the licenses issued per day during the month of June was 194."
The L.A. Times has created an interactive map with totals for each of the counties.