Just breaking, via the AP: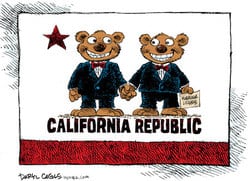 "California Secretary of State Debra Bowen says a random check of signatures submitted by the measure's sponsors showed that they had gathered enough for it to be put to voters. The measure would amend the state constitution to define marriage as a union 'between a man and a woman.' If it is approved by a majority of voters on Nov. 4, it would overturn the recent California Supreme Court ruling that legalized same-sex marriage in the state."
California is set to begin issuing marriage licenses to same-sex couples on June 17.
By November, how many valid marriages would be threatened by such a measure and will the voters stand for it?