Gay Pride happened over the weekend in Riga, Latvia, and thanks to a strong police presence was relatively violence-free despite a large swarm of angry protesters. Watch an informative video from Amnesty, International AFTER THE JUMP…
Last year's pride in Riga was less violent than the two before it, with marchers parading around an enclosed park watched over by a heavily police presence. In 2006 and 2005, things were a bit different.
Asbury Park, New Jersey held its Pride festival and inaugural 14-mile Ride with Pride bike ride.
Pride was also held in New Paltz, New York, and in the New York City borough of Queens. Flickr user Courtenay Redis writes, of the photo below: "Local politicians, community activiists and other supporters greet Leonor and Armando Garzon. Their gay son, Edgar Garzon, was beaten to death on this block of 37th Avenue in August 2001 in what is considered a hate crime, march in the 16th Annual Queens LGBT Pride Parade & Multi-Cultural Festival in Jackson Heights, Queens on June 1, 2008."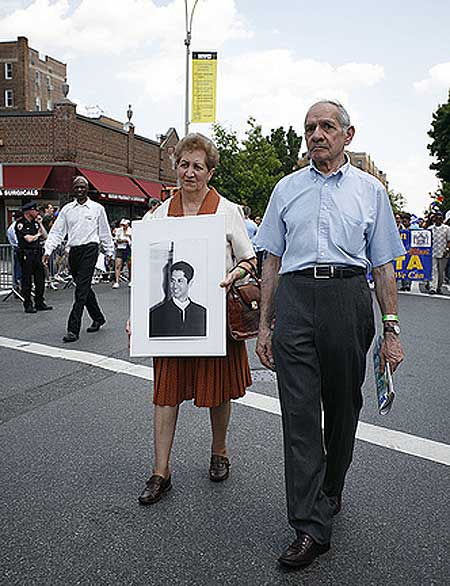 (image via flickr user courtenay redis)
Watch the Riga, Latvia clip AFTER THE JUMP…