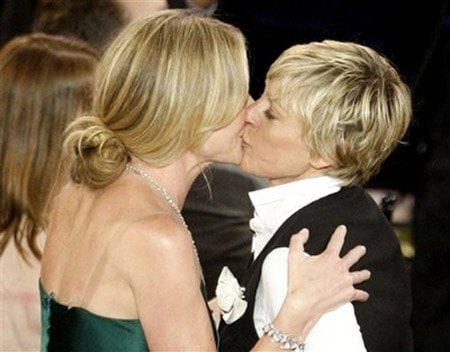 Ellen DeGeneres, who won a daytime Emmy for Outstanding Talk Show Host on Friday, says she plans to air part of her upcoming wedding on her show, and that "incredible people" would be performing.
DeGeneres told People: "Yes, we have set a wedding date…Planning a wedding is very stressful. It is crazy. My gardener is now invited…I can't wait to be married. I feel like it is long overdue. And I think someday people will look back on this like women not having the right to vote and segregation and anything else that seems ridiculous like we all don't have the same rights."
De Rossi showed off a ring consisting of a marquis cut diamond set with pink diamonds. The exact date of the nuptials, not surprisingly, was not disclosed.
AFTER THE JUMP, Ellen DeGeneres accepts her Emmy, presented by As the World Turns' Luke and Noah, and a brief moment on the red carpet.
Related
George Takei and Brad Altman Get Marriage License in WeHo [tr]
Soulforce Founders Mel White and Gary Nixon Married in Pasadena [tr]
Matt Lucas and Partner Kevin McGee Seek a Divorce [tr]
Chaos in Windsor as Two Queens Marry [tr]