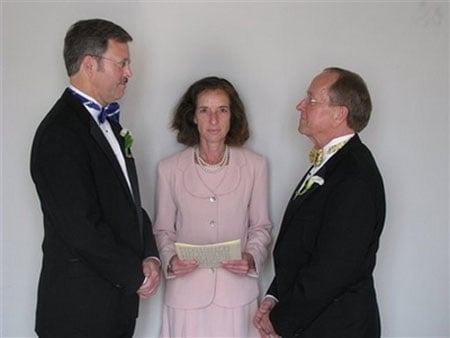 As I posted on Friday, Episcopal Bishop Gene Robinson, whose openness about his homosexuality has caused turmoil among the less-accepting segments of the Anglican church, entered into a civil union with his partner of 20 years, Mark Andrew, in New Hampshire over the weekend :
"The event was kept private out of respect for next month's worldwide Anglican conference, Robinson's spokesman, Mike Barwell, said on Sunday. 'It was absolutely joyful,' Barwell said by telephone. 'A lot of his supporters and friends were there, including many members of the gay and lesbian community.'…Robinson and Andrew held two ceremonies — a non-religious one in which they became legal partners followed by a formal church service to give blessings to God for their relationship…Robinson has said he wanted to enter into the civil union before leaving for England to ensure Andrew and his two daughters had legal protections given the threats to his life."
The ceremony, pictured above, was witnessed by 120 guests and presided over by longtime friend and justice of the peace Ronna Wise.
We wish Robinson and Andrew the best…