Ted Haggard's close family friend Kurt Serpe shared an email with Colorado Springs' News 13 in which Haggard confessed the details of his relationship with escort Mike Jones. If you'll remember, back in 2006, Haggard said that he'd received a massage but not sex, and bought meth but didn't use it. His email to Serpe tells a bit of a different story. He also sent a letter to his congregation before leaving for his spiritual restoration.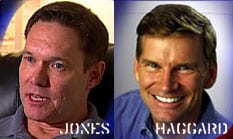 Serpe, who says he has known the pastor for more than 20 years, said that Haggard sent him an email because he "asked Haggard point-blank for the truth." In the email, which you can read AFTER THE JUMP, Haggard says he met Jones at a Marriott hotel after asking for a masseur, that Jones masturbated him, and that he took drugs before three of his five visits with Jones. Serpe says "He craved sex, he was a sexaholic. This is something that he has been struggling with all of his life."
Earlier this week, it was reported that Haggard had returned to Colorado Springs but he has been forbidden to talk to the media. His "close family friends" on the other hand…
Read Haggard's email to Serpe, AFTER THE JUMP…
***Ted Haggard's E-Mail***
Updated: June 25, 2008 11:08 PM
October 3, 2007
I was referred to Mike Jones from the concierge at a Marriott hotel when I asked for a masseur. It was during the massage that it started to become sensual, and that led to him masturbating me. That was and is our only sexual contact, but it was immoral and it was this experience that caused me to confess immorality in my letter of resignation from New Life Church. During the conversation with Mike during and after the time he masturbated me, he told me about some drugs that he could get for me that would enhance my masturbation experience. I returned on five occasions and bought those drugs. I actually used them three times, throwing them away in shame before use two times. It is for these offenses that I confessed being immoral and deceitful.
These are the answers you have requested, but I do not know why you would say you deserve them? That seems odd to me.
God bless,
Ted Haggard
***
Former Pastor Ted Haggard Sexaholic, says Friend [newschannel13]