Gay advocacy groups led by Equality California have asked the California Supreme Court to remove the proposed state constitutional ban on same-sex marriage from the November ballot: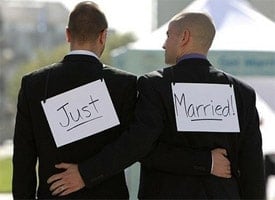 "In papers filed four days after the legalized same-sex weddings began around the state, advocacy groups argued that the measure would change the state's Constitution so profoundly that it would amount to a revision. Under the law, the Constitution cannot be revised by initiative alone – a two-thirds legislative approval is also needed before the measure goes to the voters. 'If enacted, (the November initiative) would eviscerate the principle of equal citizenship for gay and lesbian people and strip the courts of their authority to enforce basic constitutional guarantees,' said Stephen Bomse, lawyer for the groups."
Naturally, right wing groups are apoplectic: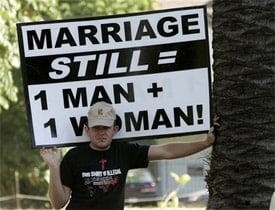 "Equality California and its allies are desperate to evade democracy…First, they used the courts to erase the votes of nearly 5 million Californians who voted to protect marriage. Now they are trying to silence the people's voice forever. This is just another attempt to force a radical political agenda upon the people of California."
MORE SAME-SEX MARRIAGE NEWS FROM THE GOLDEN STATE

Gay weddings continued to boom in the first weekend since California's same-sex marriage law went into effects.

The hot new wedding gift? Political donations: "The National Organization for Marriage's personalized Web sites and Equality California's wedding registry illustrate how the electronic fundraising innovations of the 2008 presidential campaign are being adapted to a single-issue campaign at the state level, experts said. 'With what Obama did through social networking and what we've seen as far as political campaigns starting to do, this definitely seems to be the future of fundraising,' said Brian Brown, executive director of the organization."

San Diego County Clerk Gregory Smith says some county employees have been reassigned because of "sincerely held religious objections" to same-sex marriage: "No employee is being allowed to perform marriage duties involving only heterosexual couples, Smith said. Instead, employees are being shifted to other duties that do not include issuing marriage licenses, officiating at civil weddings or acting as witnesses. Smith cited Government Code Section 12940, which requires an employer to explore 'any available reasonable alternative means of accommodating the religious belief or observance [of an employee], including the possibilities of excusing the person from those duties that conflict with his or her religious belief.'"

More on the conflict between work ethics and personal beliefs from the L.A. Times…
Previously
BOOM: California issues massive number of marriage licenses [tr]
Soulforce Founders Mel White and Gary Nixon Married in Pasadena [tr]
Two Legal Appeals to Stop Same-Sex Marriages Fail [tr]
George Takei and Brad Altman Get Marriage License in WeHo [tr]
Veteran Bob Lehman and Tom Felkner are First Married in San Diego [tr]
Star Trek's George Takei and Brad Altman Talk Marriage [tr]
Outside City Hall [tr]
Inside City Hall: Del and Phyllis Cut the Cake [tr]
Same-Sex Marriage Legal in California [tr]
The First Same-Sex Couple to Marry in L.A. [tr]
5:01 PM [tr]