The same-sex weddings that took place yesterday on the small Greek island of Tilos were met with quick response from Greek's judicial authorities: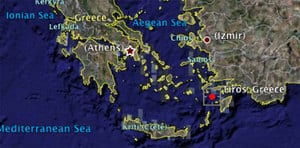 "Greek Justice Minister Sotiris Hatzigakis quickly declared the marriages "non-existent" and accused the local mayor of 'arbitrarily' overstepping his authority. 'There is no legal framework for the holding of same-sex weddings in Greece,' Hatzigakis said in a statement. But Greece's main homosexual association Olke pledged to fight back. 'A step forward for equality has been taken… We're going to fight for the recognition of our rights,' said Evangelia Vlami, 47, a prominent Olke member who was one of the newlyweds on Tuesday….The prosecutor of Rhodes island — the administrative centre of the Dodecanese island group — on Tuesday called on the mayor to annul the marriage and opened a preliminary inquiry to examine the mayor's prosecution for breach of duty. But Mayor Aliferis, a socialist, said there was no legal obstacle to the ceremony taking place. 'I have no intention of annulling the marriages,' he told AFP."
The mayor was charged with breach of duty later in the day by the Rhodes prosecutor. It carries a maximum five-year sentence.