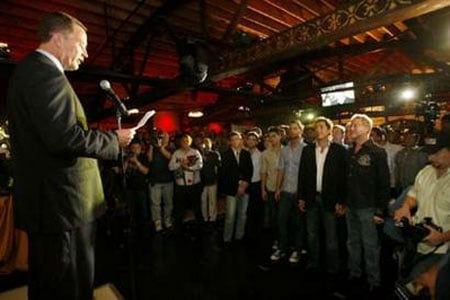 A symbolic mass commitment ceremony (planned before California's same-sex marriage court decision) was held last night at the Abbey in West Hollywood. Above, WeHo Mayor Jeffrey Prang speaks to the assembled crowd.
I've also clipped a segment from local news station FOX 11, AFTER THE JUMP…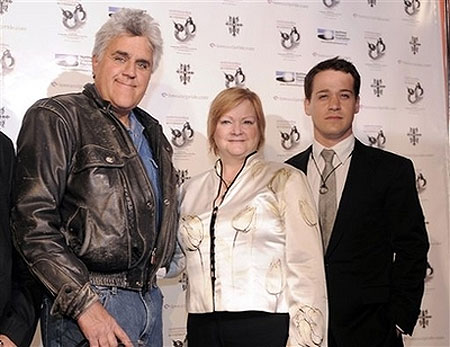 Jay Leno, Judy Shepard, and T.R. Knight were on hand to show their support. Despite Leno's history of cracking distasteful jokes about gays I think he needs to be given credit for showing up. It may be the gayest event he's ever been to, and, as we know, familiarity and exposure is the number one killer of ignorance and bigotry. So, we'll see.
Said Leno to the AP: "I have friends in the gay community. Who doesn't know gay people in Hollywood?"
Below, Jay's gayest look?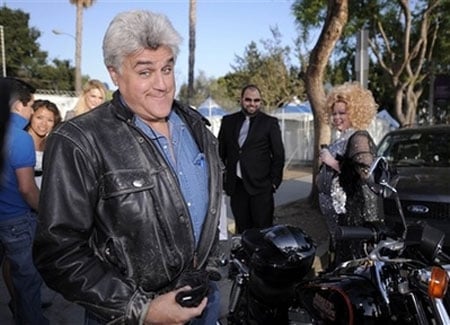 Leno even signed a symbolic marriage license: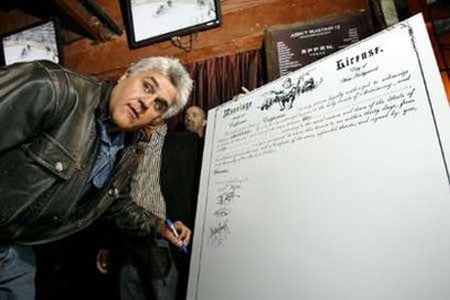 T.R. Knight and Mark Cornelsen were looking dapper. Those ring pendants around their neck were likely supplied by Love and Pride, the jewelry company sponsoring the event.
Said Knight, who had late last month been rumored to be marrying Cornelsen: "There's a lot of hate around and until that hate disappears, you're going to have people trying to push down another group of people for whatever reason."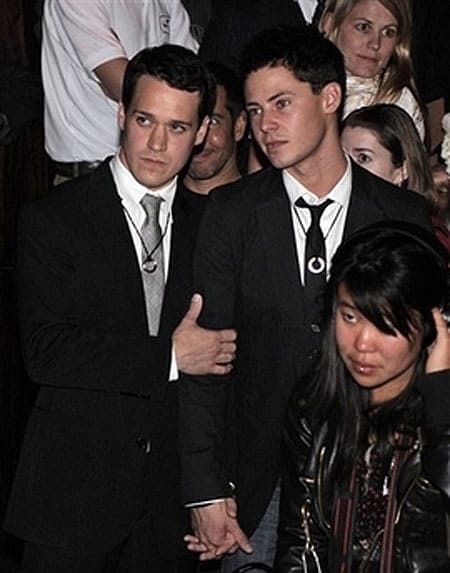 The AP reports: "This was a third year in a row that The Abbey, a popular lounge, kicked off Gay Pride month in Los Angeles with such a ceremony. Faded pink rose petals sprinkled the white carpet as a guitarist performed Pachelbel's 'Canon in D.' The crowd of family and friends gathered in support as their loved ones stood in front of the mayor of West Hollywood to take a vow. 'Your joined hands are outward and visible signs of an inward and spiritual bond,' Mayor Jeffrey Prang said, 'signifying to all your commitment to each other and your commitment in vowing to vote and protect your right to love.' Then, before a cadre of television celebrities and the family of a modern gay rights martyr, the couples sealed the pledge with kisses."
A few of the couples marking their love to one another and a local News report from FOX 11, AFTER THE JUMP…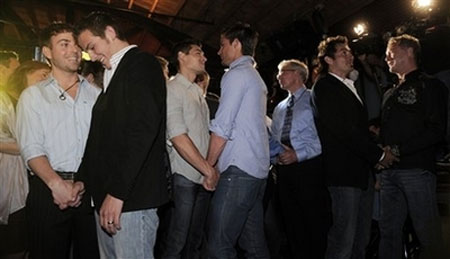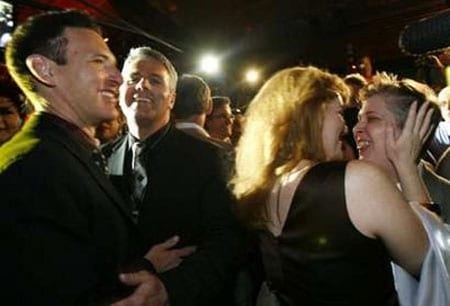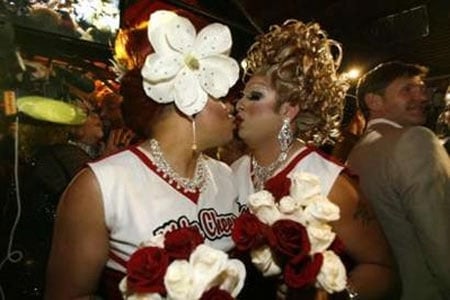 Here's a local news report I've clipped from FOX 11 News: