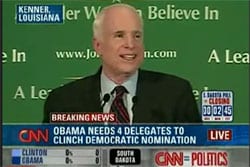 John McCain's performance in Louisiana last night — his fumbling with the teleprompter, the size of the crowd, his awkward smile, the backdrop, and well, pretty much everything about it was roundly trashed by the talking heads.
Talking Points Memo rounded up the commentary, and it's not forgiving.
Watch it, AFTER THE JUMP…
In related news, ABC is reporting that Hillary Clinton will drop out of the race on Friday.