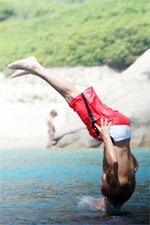 Hey guys. Just wanted to let everyone know that I'll be taking the next week off from the site. I haven't had a full week off since last year at this time, and I desperately need some offline time!
Taking over for me next week is Matthew Rettenmund, who authors the juicy blog Boy Culture, and occasionally lets his thoughts be known in Towleroad's comments section.
The posting will probably be on a much lighter basis. I hope you enjoy what he has to offer!
I'll be back soon.