SAME-SEX COUPLES CAN BEGIN MARRYING ON JUNE 16 IN SOME AREAS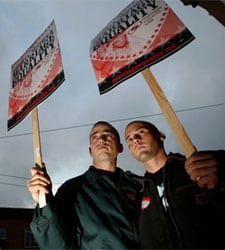 When same-sex couples can begin getting married will vary depending on the city, as yesterday the Supreme Court issued a clarification about when the ruling actually takes effect:
"The California Supreme Court's June 4 order legalizing same sex marriage becomes final at 5 p.m. June 16. Clerks and city and county officials had believed licenses could not be issued until the following morning. But in a clarification notice on Thursday, the California Department of Public Health's Office of Vital Records told county clerks and recorders they could begin using the new state marriage license forms at 5:01 p.m. June 16. The new forms designate 'Party A' and 'Party B' instead of 'bride' and 'groom.' 'If the courts take additional action, we will provide further guidance to the counties as needed,' the notice stated. But, the notice said, county clerk's offices are not required to stay open beyond normal business hours."
San Francisco is one of the places where city officials will keep the clerk's office open to begin issuing licenses as soon as possible. In other places, like Santa Clara County, couples will have to wait until the following morning.
Previously
Rosie O'Donnell says She'll Wait to Marry [tr]
California Supreme Court Rejects Bid to Stay Gay Marriage Ruling [tr]