Log Cabin President Patrick Sammon confirmed to the Gay Patriot blog that John McCain held a meeting with the group in "the past couple of weeks" that didn't ever appear on the Senator's schedule.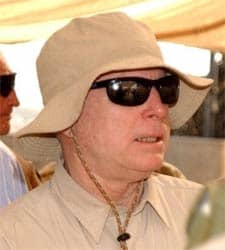 Said Sammon to Gay Patriot: "We've had a series of productive meetings with the campaign since Sen. McCain won the nomination—including a recent meeting with the Senator. We expect to have more conversations with the campaign as we head toward November."
Gay Patriot: "According to published news reports the Sammon-McCain meeting would be the first face-to-face dialogue between a Republican Presidential standardbearer and the President of the national Log Cabin Republicans organization since the check-refund controversy between LCR and the Dole Campaign in 1995."
One of the reasons it may be so hush-hush is that McCain doesn't want to upset the wingnut crowd, like Peter LaBarbera of Republicans for Family Values, who in April expressed dismay that Arnold Schwarzenegger spoke with the group at its convention, reportedly as "McCain's surrogate".
Pam has some of the right-wing responses to the reported McCain meeting.
AFTER THE JUMP, a John McCain gay pride message, created by the Stonewall Democrats.