San Francisco Supervisors Tom Ammiano and Bevan Dufty are among those local politicians supporting a boycott and protest of the Human Rights Campaign dinner in that city next month, over the organization's failure to support a trans-inclusive employment non-discrimination bill (ENDA) last year. According to the San Francisco Chronicle, "The city's two LGBT Democratic clubs support the boycott, as does the San Francisco Labor Council. Assemblyman Mark Leno and state Sen. Carole Migden, both of San Francisco, also are not attending the event."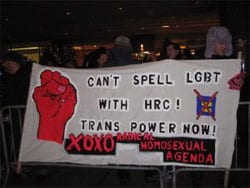 It's a scene that has played out in New York (pictured) and other cities.
The paper reports: "On Tuesday, San Francisco Supervisors Tom Ammiano and Bevan Dufty introduced a resolution at City Hall calling for a bill that includes transgender people and recognizing the boycott. 'The Human Rights Campaign should not be human rights cowards,' Ammiano said at a news conference at the San Francisco Lesbian Gay Bisexual Transgender Community Center. He said the organization seems uneasy with transgender issues. Dufty said he will skip the fundraising dinner for the first time in 23 years and instead will make dinner at his home for people protesting outside the event."
Matt Foreman, former executive director of the National Gay and Lesbian Task Force, will be among those protesting outside the event. Said Foreman: "What is going on here is an emperor-has-no-clothes moment. We still don't have one single federal law that protects gay people, let alone transgender people."
HRC defend its actions in a statement from President Joe Solmonese: "HRC's position is that we could not oppose – and, in fact, should support – legislation to provide crucial civil rights protections that would be brought to the House floor for a vote, even though we did not and, certainly, would not have chosen that course…At a time when our community is threatened, once again, with a cynical election-year ploy that could hurt our families, we believe that it's time to set aside our differences and fight for what we all want."
The HRC dinner, which will benefit marriage equality (the organization has already made an initial pledge of $500,000 to the Equality for All marriage coalition), takes place on July 26th at the Westin St. Francis hotel.
Activists to boycott gay-rights group dinner [sf chronicle]