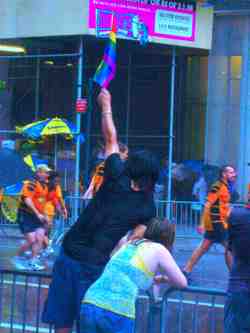 On my own blog, I tend to be wordy. So of course I'm taking over Towleroad the day after Gay Pride Weekend. It's impossible to summarize multiple events across the world too briefly, so my first couple of posts, devoted to Pride, will be anything but the lighter fare Andy promised from me.
Over one million turned out to watch approximately 500,000 march in New York City's annual Gay Pride Parade, the 39th celebration since the Stonewall Riots (June 28, 1969). Intermittent showers soaked the throngs of participants and spectators, failing to dampen enthusiasm even as more than one pair of size 12 Prada pumps had their last hurrah.
New York's David Paterson—the nation's first legally blind governor—became the first governor to appear in the parade, eliciting loud cheers as he kicked off the march alongside New York City Mayor Michael Bloomberg. Other politicos included Senator Charles Schumer (Hillary Clinton was not in attendance), openly gay New York State Senator Tom Duane and out lesbian Council Speaker (and possible mayoral candidate) Christine Quinn, who had this to say of Paterson:
"Politically and personally, thank you to Governor Paterson. What he did following on the great work in the assembly—sends a message that leadership isn't about waiting, it's about finding the opportunity. It's about finding the way to move progress and civil rights forward."
Co-grand marshals were transsexual Dirty Sexy Money star and local girl Candis Cayne and activist Gilbert Baker, who created the rainbow flag.
My own experience with the stormy NYC parade? Put away wet, but not rode hard…