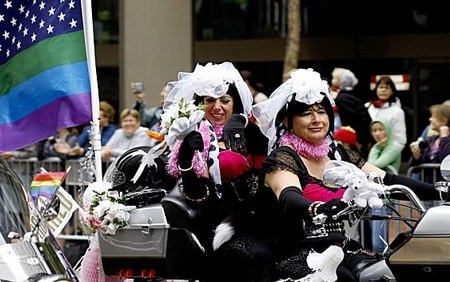 Wedded bliss was a special focus of San Francisco's 38th Annual Pride Parade, the first to be held after the California Supreme Court decision to legalize gay marriage. The Dykes on Bykes tossed bouquets and San Fran Mayor Gavin Newsom was greeted like a rock star. Gay icons Cyndi Lauper and Margaret Cho were among celebrity attendees. Crowds were said to be "larger-than-usual." Full photo album here.
According to The Canadian Press, members of the Canadian Armed Forces participated in Gay Pride for the first time in Toronto, whose parade featured a grand marshal (Gareth Henry) who fled Jamaica after being persecuted for his sexual orientation.
The Twin Cities of Minneapolis and St. Paul in Minnesota attracted an estimated 125,000 celebrants, including an exceptionally proud terrier (who I hope was dyed humanely).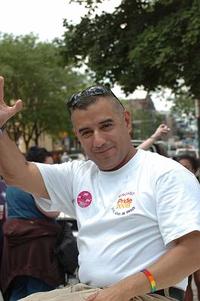 Chicago's Gay Pride Parade went off without a hitch Sunday. Themed "Live, Love, Be Proud," the parade's grand marshal was ex-marine Eric Alva (pictured), the first American casualty from the Iraq War and an openly gay man.
German Pride celebrated its 30th year by kicking off for the first time from the former East Berlin. One special participant was 95-year-old Rudolf Brazda, a survivor of Buchenwald concentration camp:
"It was a terrible time. I must say that I feel as though I were in paradise in this democratic society."
Other European Pride events held on Saturday included some in countries "seeing gatherings of gays and lesbians for the first time." At the Czech Republic's first Pride, three people were jailed for throwing fireworks at some of the 500 marchers. Five dozen skinheads were arrested in Bulgaria for attempting to derail that country's event.
Paris Pride was organized around "homophobia at school" and drew about 700,000. But why talk about it when you can just take a look?
Finally, marchers in Calcutta, New Delhi and Bangalore celebrated Gay Pride, marking the first parades in the latter two Indian cities. "Several hundred" participants were reported at the events, which were staged in advance of arguments before a Delhi High Court to overturn the antiquated law—Section 377—forbidding any sex that is "against the order of nature." Indians are rarely locked up for homosexuality, but the legal punishment is up to 10 years.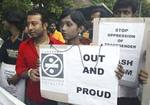 Gay-rights activist and New Delhi organizer Lesley Esteves says:
"Discrimination is widespread because there is no protection or law or societal understanding. There's discrimination in the workplace; there's discrimination in the family—it's on every level."
At least some of the onlookers were just there for the music.
As usual, there will likely be a dull roar from some gay quarters that Gay Pride isn't necessary because being gay is nothing to be "proud" of (overlooking that it's the suggestion to be ashamed that these events are counteracting) or that it's counterproductive because all the "freaks" come out. I agree with JoeMyGod's annual rant: "They wish we were invisible. We're not. Let's dance."