Is estrogen the secret to containing the spread of HIV?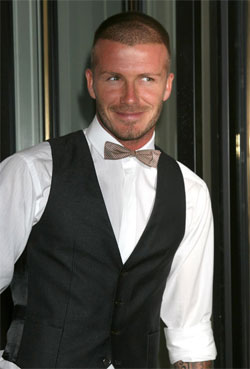 Seconds, please: Is David Beckham the hottest waiter of all time?

The two Spanish nationals detained late last week in the west African country of Gambia have been released: "Two Spanish men detained in Gambia for allegedly making homosexual proposals to taxi drivers have been released after five days in jail, a Spanish official said Wednesday. The men were released late Tuesday and left the West African country, said Nicola El Busto, an official with Spain's embassy in Gambia. El Busto declined to give further details, and Gambian authorities could not immediately be reached for comment."

Gossip Girl couple shops, scowls.

Redwood City, CA man who hurled gay slurs, patio table at neighbors, pleads not guilty in court: "Herbert Santos-Coy is facing multiple felony hate crime charges after he allegedly physically attacked his two neighbors on March 30. If convicted he faces up to eight years in state prison, according to the San Mateo County District Attorney's Office. Santos-Coy was arrested by Redwood City police after he allegedly came into the carport where the couple was working on their car and began yelling homophobic slurs at them, according to the district attorney's office. He then repeatedly struck one of the victims in the face and swung a wrought iron table at the couple, which missed, according to prosecutors. When police arrived, Santos-Coy resisted arrest, according to police. He was allegedly drinking at the time of the altercation."

In California, assemblyman Mark Leno is expected to become the first openly gay state Senator in California history.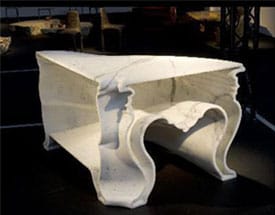 Does Brad Pitt have good taste in tables?

Wisconsin Supreme Court calls suit brought against gay group by Christian activist Reverend Grant Storms frivolous: "Anti-gay activist Rev. Grant Storms of New Orleans sued gay rights group Action Wisconsin after it took excerpts from a 2003 speech Storms made in Milwaukee and claimed he was advocating the murder of gays. Storms' lawsuit was dismissed in 2005, and he was ordered to pay court costs and attorneys' fees. The Supreme Court on Thursday upheld that decision, which had been reversed by an appeals court. The high court's 4-3 decision means Storms' attorney James Donohoo will have to pay more than $87,000 in court costs and fees because the court said he should have known the lawsuit was frivolous."

There must be something about the name Kern.

An interview with Banksy?

Alzheimer's patients are kept from wandering off from a German nursing home by a fake bus stop outside the center: "It sounds funny but it helps. Our members are 84 years old on average. Their short-term memory hardly works, but the long-term memory is still active. They know the green and yellow bus sign and remember that waiting there means they will go home. We will approach them and say that the bus is coming later and invite them in for a coffee. Five minutes later they have completely forgotten they wanted to leave."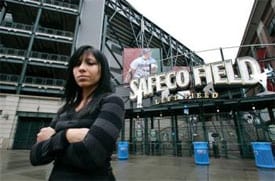 That lesbian kiss at Safeco field in Seattle I posted about last month is getting a lot more attention. Sirbrina Guerrero, who was almost kicked out for it, is now speaking out.

Rosie O'Donnell and Howard Stern had a little chat yesterday.

Six in ten Americans say same-sex marriage a private choice that should not be regulated by the government: "As same-sex couples line up to get marriage licenses in California on June 17, the USA TODAY/Gallup Poll found that 63% of adults say same-sex marriage is 'strictly a private decision' between two people. That the government has the right 'to prohibit or allow' such marriages was stated by 33%, and 4% had no opinion."

Religious Knesset members initiate amendment to ban gay pride in Jerusalem.

Rupert Everett's anti-American rant: "I'm totally off the States now. The reaction to 9/11 and then George Bush – really, they've got very blobby as a nation. Now they (the Americans) are whiny victims whose language is entirely taken from two TV shows – Friends and Sex And The City – and there's nothing sexy about them any more. And that kind of semi-blindness about the rest of the world, which was attractive when America was exciting, is really unattractive now."