Supreme Court rules in favor of right to bear arms.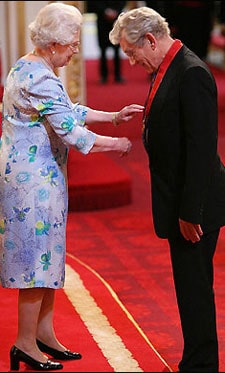 Sir Ian McKellen made a Companion of Honour by the Queen.

Cher has a stalker who tried to grab her by the wrist in Nashville.

Obama-accuser Larry Sinclair, who was arrested last week when his criminal record caught up with him following an appearance at the National Press Club in Washington, D.C., is being defended by some as a "political prisoner".

Remember Britain's Got Talent's angelic bullied choirboy Andrew Johnston? He didn't win, but he did just get a £1 million deal with Simon Cowell's record label.

Houston-area homes and vehicles targeted by spray paint vandals using racial and homophobic slurs: "Fort Bend County Sheriff's detectives are investigating more than a dozen incidents of theft and vandalism involving racist and obscene words spray painted on homes and vehicles. The incidents were reported about 7:30 a.m. Sunday in the New Territory development, said sheriff's spokeswoman Terriann Carlson. 'It appears that white spray paint was used on all of the vehicles and the residences and racial and derogatory slurs such as the swastika symbol, and male body parts,' Carlson said. The slurs also targeted homosexuals, she said."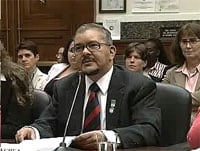 HRC President Joe Solmonese on the first congressional hearings to educate members about gender identity issues. More on the hearings from Pam.

International Federation of Red Cross and Red Crescent Societies: HIV/AIDS infection rates for drug users, prostitutes and gay men around the globe are on the rise. "'HIV is a long-term and complex disaster on many levels … For marginalized groups across the world — injecting drug users, sex workers and men who have sex with men — rates are on the increase,' said the Geneva-based humanitarian agency. Those groups, living on the fringes of society in many countries and especially in the developing world, 'often face stigma, criminalization and little, if any, access to prevention and treatment services,' it added."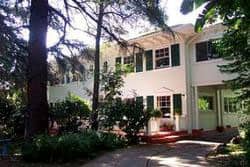 West Hollywood's historic 'Tara' mansion may get new life as a same-sex wedding location.

The Onion celebrates Gay Pride.

Lesbians in Vancouver claim comedian crossed homophobic line during routine: "Ms. Pardy alleges that she and her same-sex partner were subjected to a tirade of homophobic and sexist comments by Mr. Earle. Mr. Earle denies that he discriminated, while admitting that his interactions with Ms. Pardy and her partner were heated."

A Cristiano Ronaldo fix for you.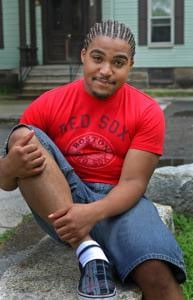 18-year-old gay Boston drop-out Alex Quince triumphs with perfect score on the GED reading test: "A quiet teenager making A's and B's, he ran away from home, dropped out of school, and tried everything from marijuana to heroin. He struggled with his sexual orientation. When his mother called his cellphone, sick with worry, he responded with a text message. 'I'm gay,' it said. 'I'm not coming home.'"

Hugh Jackman has left the beaches of Sydney and is now stunning onlookers in St. Tropez.

Does everyone in the world have a sex tape?

A police force of 2,000 guarded today's gay pride parade in Jerusalem. If numbers are correct, that's one officer for every person who took part.

Gays in Oregon question commitment of Senator Gordon Smith. HRC's David M. Smith: "Our view of Gordon Smith is, he has been a leader on a number of our issues. His record is strong and he is very clear about it, and we appreciate everything he's done and continues to do. [But] we will not be endorsing him."

With Wall-E on the verge of release, Radar posts a brief history of gay androids.

ABC: Barack and Michelle Obama putting mark on the fashion world.