Yesterday, GLAAD released its second annual Network Responsibility Index which evaluates the quantity, quality and diversity of images of lesbian, gay, bisexual and transgender (LGBT) people on television.
According to GLAAD, "For the second year in a row, ABC led the broadcast networks in LGBT-inclusive content. Of its 1,150 total hours of primetime programming, 280.5 hours (24%) included LGBT impressions and 11% were transgender-inclusive, making ABC the most fair, accurate and inclusive of the five broadcast networks."
Following in the rankings were The CW (with 139.5 (21%) LGBT-inclusive hours), CBS (with 103.5 hours (9%) of LGBT-inclusive content), NBC (71.5 hours (6%) of LGBT-inclusive content), and finally FOX (with only 33.5 (4%) LGBT-inclusive hours).
FX led the cable networks. More here.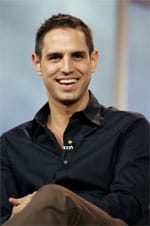 Coincidentally, ABC announced yesterday that Greg Berlanti (pictured), who produces the uber-gay Brothers and Sisters as well as Dirty Sexy Money featuring trans actress Candis Cayne, and Eli Stone, has signed a new "megadeal" with the network:
"The five-year pact — said to be top-of-the-market, well into eight figures and featuring a large overhead component — keeps Berlanti at ABC Studios."
Michael Jensen of AfterElton asked Fox's Entertainment President Kevin Reilly about Fox's poor ranking in the index yesterday at the (Television Critics Association)TCA press tour. Said Reilly: "I haven't had the chance to put any of the product on the air. I can say we've got several shows now moving forward with gay characters in them. I think our score … I think our … the scores get affected by what's … sometimes you've actually got great representation and then for commercial or creative reasons something gets canceled and your numbers go down. That's something we're really committed to. In fact, right now were in production on a pilot called Virtuality that Ron Moore and Michael Taylor created and Peter Berg is directing. It's got a gay relationship that is as dimensional and honest as anything I've ever seen portrayed on television right now. If we move forward on that I think that is something to really note."