Excerpts of Christopher Ciccone's tell-all Life with My Sister Madonna
were published over the weekend in the Mail on Sunday (along with some never-before-seen photos, including the one above, right), most of which dealt with Guy Ritchie's homophobia and how it came between Christopher and Madonna. Here's a bit where Christopher exacts a bit of verbal revenge on Guy after feeling like the butt end of Guy's homophobic jokes while at Scotland's Skibo Castle for their wedding: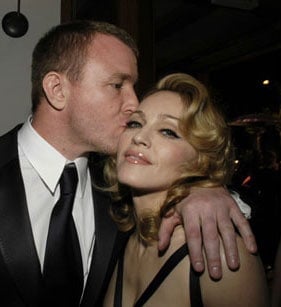 ***
Madonna stands up at the top of the table and issues the instruction: 'Christopher, tonight it's your turn to give the toast.'
I lean down the baronial table and, with great emphasis, reply: 'Madonna, you really don't want me to do that.' It's a statement, not a question.
'No, Christopher, it's your turn!' she barks in a tone identical to the one she always used as a kid when she and my siblings all played Monopoly together.
If she didn't get Park Place [Mayfair in the English version] she invariably stamped her feet and said: 'But it's mine.' In those days, in the face of her strong will, I always capitulated and rescinded my purchase of Park Place.
Nothing seems to have changed. I stand up. My fellow guests fall silent out of respect – the brother of the bride is about to make a speech. I raise my glass: 'I'd like to toast this happy moment that comes only twice in a person's lifetime.'
Then, without skipping a beat, I go on: 'And if anybody wants to **** Guy, he'll be in my room later.'
Everyone erupts in laughter. Everyone, of course, except Madonna, who keeps saying: 'What did he mean?' Guy, who I suspect knows exactly what I mean, says nothing and avoids looking at me.
Soon after, Trudie [Styler] tells me: 'That was hysterical. I've been listening to all those homophobic jokes. I just want you to know that we were aware of how you must be feeling.'
***
Ciccone also appeared this morning on Good Morning America. You can watch that, AFTER THE JUMP…
Previously
Ciccone Tell-All Cover Revealed as Madonna Denies Divorce, Affair [tr]
Christopher Ciccone writing Memoir: Life with My Sister Madonna [tr]
(clip via queerty)