Civics Quiz — Ted Stevens vs Larry Craig: "In Congress which is worse: being corrupt or being gay? Time is up. Pencils down. If you answered being gay, you've been paying attention, class. Of the 10 Commandments, it is much better to break the one about stealing than the one about sex."

John McCain's $520 Ferragamo shoes. The Nation's Christopher Hayes: "If I were a right-wing blogger, and I found out that Barack Obama was wearing Ferragamo loafers that cost $520, I would spend about 50% of my waking hours making sure everyone knew this. I would mock him for being an out-of-touch elitist and make jokes like, 'If you think that's a lot, you should see how much his purse costs!' I would send the link to Drudge and wait for Instapundit to pick it up, and then watch gleefully as Fox News ran segments about how Barack Obama's $500 loafers vitiate his entire economic platform."

Guy Ritchie says Hard Candy worse than cocaine: "Sugar kills. Think of the calories in sugar. Fat kills more people than anything else. Sugar is responsible for a lot of deaths, arguably more than crack cocaine."

Iranian President Mahmoud Ahmadinejad blames West for AIDS.

The skinny on Brideshead Revisited's Matthew Goode.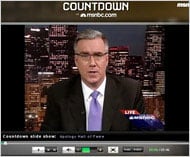 NYT: Purple ties may be the new neutral but what about lavender pants?.

Catfights underway on Sex and the City sequel.

Sound Advice: "Every Bleeding Breath" — Divide and Create.

Booted from Facebook, makers of Scrabulous launch new 'Wordscraper' game: "Developers Rajat and Jayant Agarwalla launched Wordscraper worldwide less than 48 hours after being forced to take their original creation, Scrabulous, offline in the US and Canada in response to a lawsuit from Hasbro. The brothers voluntarily closed Scrabulous to North American users on Tuesday following a claim of intellectual property infringement by games manufacturer Hasbro, which owns the online rights in the US and Canada. They have now launched Wordscraper, with significant changes to make the game less like Scrabble."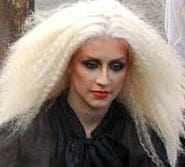 Christina Aguilera hairdo scares the pants off someone.

British men banned from football grounds over homophobic chanting.

Anime fans making pilgrimage to Japanese shrine in drag.

HORROR: One man beheads another on Greyhound bus in Canada.

Barney Frank wants an end to arrests for marijuana possession: "The vast amount of human activity ought to be none of the government's business. I don't think it is the government's business to tell you how to spend your leisure time."

Simon Lee, musical supervisor of the upcoming Toronto production of The Sound of Music fired after alleged assault and imprisonment of 24-year-old man at hotel: "Simon is a very talented person who is extremely important to us. However, on this occasion we felt it was necessary to seek the termination of his engagement on The Sound of Music in Toronto. The alleged events are subject to legal proceedings and, therefore, we can't comment further."