The right to marry would be such a valuable privilege for so many gays, I decided to see if that value translates to somewhat less romantic quarters—eBay. I asked eBay pop culture expert Karen Bard to research prices for items related to gay marriage and found that—just as with gay relationships—there were way more than you'd think, some are cheap and some are high-end and it's all about the globes. Bard says: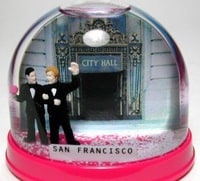 "Since the California Supreme Court overturned the ban on gay marriage in mid-May, there's been a flurry of activity on eBay—a 33% increase over the past month in all 'gay marriage' items on the site. One bestseller among eBay users—snowglobes!"
In all, Bard noted:
197 "gay marriage" listings
24 "gay marriage" items sold
$7.78 average price for "gay marriage" items
$57.00 highest price (tin-type photo of two men exchanging rings)
Of course, these stats do not include things without "gay marriage" in the listing but that are related—such as rings.
One thing that might make gay marriage even more viable than straight marriage is if we instituted eBay's feedback system. I imagine partners would be more likely to stay together if the possibility of mutual "negatives" threatened to mark them as high-risk deals.