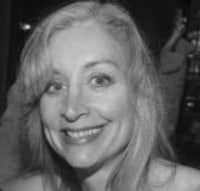 Towleroad: How did you decide on the topic of this book?
Dian Hanson: This book followed the huge success of my Big Book of Breasts. I was asked to keep going with body parts and everyone assumed it'd be butts. I told [publisher] Benedikt Taschen there was only one human body part that could match or top the large breast for iconic obsession, and that was the big penis. He thought a moment and said, "Okay, do it."
Towleroad: What is it about big dicks? I mean, small vaginas—the desirable counterpart—really wouldn't have the same oomph.
Dian Hanson: No, small vaginas would not have the same appeal, but I do plan to do The Big Bush Book, on old-fashioned hairy pussies from the '70s.
Cock appeals on all levels. It is the instinctive measure of manhood, even if it has no real bearing on manhood. Even straight men are attracted, just to see how big they can get and shrink in terror and insecurity.
Towleroad: Who, in your opinion, really was/is the biggest of the big, and are any famous hungstars really a lot less impressive than their legends say?
Dian Hanson: I'll go with John Holmes for length plus girth, but there's a man in the book from an old anonymous photo who comes close. Coverboy Chad Hunt is also very impressive for length and girth, as are some of the models for Third World Studios. Jim Jaeger of Third World was one of the few who actually chased around the country after men who were enormously hung, unlike most, who just took what they could find on Selma Avenue (which runs by the back of the Taschen L.A. offices).
Towleroad: When do you think the concept of being famous for being hung began?
Dian Hanson: Suppose it began with Priapus, whose image was nailed to doorways in ancient Rome to scare off thieves. The implication was that if they entered they'd be buggered by a cock of his size. Oh, what a terrible punishment!
Then there was Rasputin, whose huge cock was part of his legend and power over women and men alike. We know his cock was cut off as part of his murder; clearly straight rage over his superior endowment.
Towleroad: Do you believe any one group is more anatomically blessed than another? Do black men really have bigger dicks, Asian men smaller ones?
Dian Hanson: This is a sensitive question and one I've tried to wriggle away from. Those who went around the world measuring dicks as amateur scientists in the 1800s, when a white man could get away with anything, seem to agree that Arabs have the biggest average cocks, but that black men are the individual prize winners.
In the book, two-thirds are white, one-third black or Latin. I was sadly unable to get any Asian models—and I tried hard. This has something to do with who was photographed in the '70s and '80s. Asians have always been under-represented and I found almost none in these old archives. Everyone told me about some Asian man they'd encountered who was hung, but no one had a photo.
Towleroad: How do you explain the appeal of a book like this to straight men…because I have to believe a large number would flip through it eagerly if given the chance?
Dian Hanson: Every straight man I know with a big cock wants the book. Everyone else says he wants nothing to do with it, but they have to creep up when no one is around and take a look. We all want to know how we stack up on our protuberances. It's easy for women to see that other women have breasts larger or smaller than their own, but cocks are subtle. Straight guys want to compare, even if they're not happy with the results.
Towleroad: I think I read that only 2% of the world's population of men have penises that are eight inches or more. Can this be true? If so, does this mean most men simply lie, or are misinformed about what eight inches really means?
Dian Hanson: Lying and misinformation abound. I've measured a few back in my impertinent youth and know that eight inches is really a lot bigger than you'd imagine. The average cock is between five and six inches, not even the 6.1 average that Kinsey claimed. This is because Kinsey let the men measure themselves…
Towleroad: Do most men who are hung seem to be exhibitionistic about it, or do you think there are many who are private about their privates?
Dian Hanson: They're all big show-offs. Every photographer I interviewed for the book agreed that if a man has a big cock he's eager to show it. Even if he's a straight guy and the photographer is gay and is going to put him in a gay mag. He wants someone to appreciate what he has—and gay men will appreciate it the most.
Towleroad: Do you think most men with huge endowments are 100% happy with them, or are there lots of issues with women (and men) who can't really enjoy them past a certain point?
Dian Hanson: Both John Holmes and a porn star of the '70s/'80s I dated briefly (Jesse Adams) complained that people only wanted them for their cocks—and then went around shoving their cocks in everyone's faces. It's the same doubt big-breasted women have, but all the ones I've known who got breast reduction then complained they didn't attract men as before.
Towleroad: What is your personal favorite famous huge dick of all time?
Dian: Terry Richardson? I love his exuberance in showing that thing off, even at the risk of his fashion career.
Towleroad: Were you close with or did you know many of the most famous endowed pornstars, like John Holmes, etc.? What were/are they like?
Dian Hanson: Interviewed John Holmes in his final days and he was very bitter, telling me, "At first I thought people liked me, then I found out all they wanted was the cock. Finally I just decided to give them the cock, but that they would all have to pay." Ron Jeremy was always anxious about not measuring up to John Holmes and needed to be reassured that people liked his big dick. He is a very sweet guy; a bit neurotic, but always helpful and human.
Towleroad: When researching, did you mainly focus on well-known examples or did you try to root out (everything feels like a pun) unknown guys, too? Are there any men in the book whose identities are unknown?
Dian Hanson: There are men whose identities are unknown, but now that the book is out I keep getting e-mails from people identifying them. I'm making notes for the reprint. I mainly wanted the men with the biggest cocks, known or unknown, and the work of my favorite photographers, like David Hurles of Old Reliable. Getting to know him has been one of the greatest side effects of doing the book.
Towleroad: What is the most unique or surprising aspect of big penises you discovered while compiling this book, or that will most likely surprise readers?
Dian Hanson: That "fascinate" comes from the Latin for both penis and magical spirit. Also, the lengths to which men will go in attempting to increase penis size.
Towleroad: Does penis enlargement surgery or do other enlargement techniques work, or are men basically gonna end up with whatever we were born with?
Dian Hanson: Seems nothing does much more than add an inch—and to get that inch you can do some serious damage to yourself. The problem is the delicate erectile tissue in the penis. Anything that pulls on the penis runs the risk of breaking down the spongiosum and inhibiting erection. The least damaging is cutting the suspensory ligament, making your cock hang lower and freeing up an inch of the internal shaft. This means your erections no longer point up, but that's the least of it. I found stuff online about men injecting their dicks with motor oil and olive oil and having to have the skin removed to scrape it all out. Ouch!
Towleroad: Is there enough material for a sequel? Because it would seem like interest is endless.
Dian Hanson: Don't know the print run, but we had to go into a second printing just to have books to sell in the U.S. after being on sale one month in Europe. It's been the top-selling book in our Taschen stores since the day it debuted, and #1 in Erotic Photography sales on Amazon for three months before its release. We're talking about an updated edition in the future…