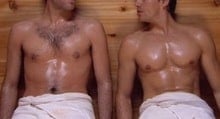 Magnum, a gay sauna in Budapest, Hungary, was the target of four petrol bombs early today. This is the second bombing in a week. In both cases, the perpetrators called first to make sure people were inside. "We are doubtful if the police are really protecting the gay establishments as they promised," says Gabor Kuszing of the Hungarian gay-rights group Patent Association.
Two female students were arraigned on charges of aggravated assault after videotaping their beating of a lesbian classmate whose PDAs were said to upset them.
All of Big Sur, California, was ordered evacuated as an 11-day-old fire continues to rage.
Colorado Congresswoman Marilyn Musgrave goes back to the anti-gay marriage well that nearly cost her her job.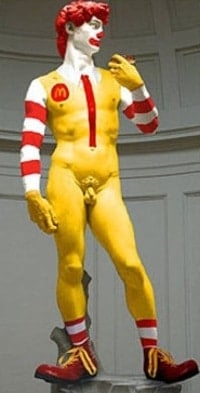 Keep Your Eyes On Your Fries: The American Family Association thinks McDonald's is so, totally, like gay.
For Obama, even some formerly fire-engine red states have got the blues. But it's not all "blue skies"—the largest group on his own Web site is devoted to urging him to reconsider caving on FISA.
Portland tops the "Gay Ghetto" list. (Where's New York???)
Scientology's $8 million-dollar secret.
A modern-day West Side Story may be in the works.
Joe Lieberman is not popular.
Chris Martin of Coldplay used to "worry that he might be gay" until he realized he loved boobs. He attributes his sexual anxiety to his Christian upbringing. "What I grew up with was, if you even think about boobs, you're going to hell," he tells Rolling Stone. "But let's face it, they're fantastic."
Lindsay Lohan threw herself a prom-themed 22nd birthday at the Hollywood Roosevelt Wednesday. Her date? Top-hatted DJ Samantha Ronson.
Democratic House candidate Darcy Burner of Washington owes her life to her five-year-old son, who awakened the politico and her husband in time to flee an early-morning fire that destroyed their home.
Jai Rodriguez to star in a new musical about a Cuban refugee "who sets sail on a turbulent journey that leads him all the way to Hollywood and into the arms of a fiery, redheaded movie star named Lucille Ball." Waaa!
Ever seen Swoon? Its director, Tom Kalin, is back with Savage Grace, the true story of socialite Barbara Daly Baekeland. Julianne Moore plays the neurotic woman, who was said to have bedded her own son, Antony (Eddie Redmayne), as a means of curing his homosexuality. Instead, it probably helped drive him toward what became a grisly day of reckoning in 1972. The movie—out in limited release in the U.S. for the past month—is generating a big stir due to extended portrayals of their incestuous liaisons.
Watermelon makes me horny.

Madonna's Sticky and Sweet Tour setlist might very well contain classics "Borderline" (not presented live in 23 years) and "Into the Groove," the Oscar-winning "You Must Love Me" from Evita and, of course, "La Isla Bonita"…a song Madonna seems to think is on par with "Vogue" considering how often it's trotted out. Other oldies under consideration? "Dress You Up," "Everybody" and "Angel."