Focus on the Family leader James Dobson, who has said that he cannot endorse John McCain because of McCain's positions on embryonic stem cell research and opposition to a federal amendment banning same-sex marriage, may yet endorse him, he told the AP: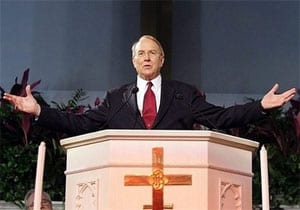 "There's nothing dishonorable in a person rethinking his or her positions, especially in a constantly changing political context. Barack Obama contradicts and threatens everything I believe about the institution of the family and what is best for the nation. His radical positions on life, marriage and national security force me to reevaluate the candidacy of our only other choice, John McCain."
Why is he changing his mind? There's no one else to choose from. Dobson also has concerns about McCain's temper and foul mouth.
In June, Dobson slammed Obama for what he called the candidate's "fruitcake interpretation" of the Constitution.
(via americablog)