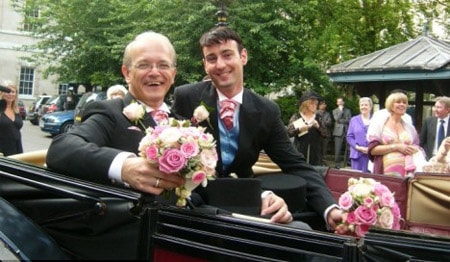 One of the gay priests who was married by an Anglican bishop last month, has turned in his resignation and is said to be planning a civil partnership party at Westminster Abbey where he has conducted services for a decade. Some aren't too happy about the rumored plans:
"But the prospect of a party for the gay vicars in one of Britain's most historic churches, where Kings and Queens have been crowned for centuries, has outraged traditionalists in the church. Lord Pilkington of Oxenford, a member of Parliament's Ecclesiastical committee, said: 'I regard it as remarkably insensitive. It is most unfortunate. They could show some sensitivity to the church.' One senior lay member of the abbey congregation said: 'It is an incredibly inflammatory idea so soon after the uproar they caused with their church wedding. It could embarrass the Queen if enough people complain.'"
Heterosexual rector Martin Dudley first angered conservatives by conducting the civil partnership using traditional Anglican liturgy.