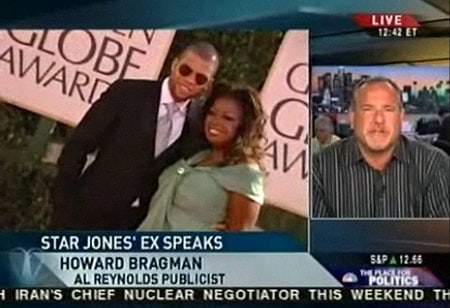 It's odd to discuss a PR agent's marriage to his male partner and the dissolution of his client's (who continually denies that he's gay) marriage in the same post, but the two came together yesterday in an MSNBC interview.
Howard Bragman, who represents Al Reynolds, talked to MSNBC about the reasons behind the decision to post three interviews on YouTube yesterday in which Reynolds denies he is a 'homosexual' and discusses his marriage to Star Jones and his life passions.
Said Bragman of the decision to post the videos interview-style with a journalist: "It wasn't a hypothetical worry. It was a genuine worry. because so much of what has been written and covered by the mainstream media has been inaccurate and sensational that we wanted to tone it down while at the same time respecting journalism and asking the tough questions, so I think we reached a very good balance there."
In other marriage news, Bragman wed his longtime partner Chuck O'Donnell on Monday in a private ceremony officiated by West Hollywood mayor Jeffrey Prang. At the end of his MSNBC interview, he urged voters to vote against Proposition 8, the November ballot measure that would define marriage as between a man and a woman.
Congrats to Bragman and O'Donnell!
One another note via Outsports is that Bragman's client Isaiah Washington made a contribution to the fight against Prop. 8 in lieu of a wedding gift to his PR agent, which was a specific request Bragman made to all those who wished to offer their gifts and/or wishes.
I've clipped the entire MSNBC interview, AFTER THE JUMP…