Albuquerque photographer Elaine Huguenin is appealing a court-imposed fine of $6,637 for refusing to shoot a lesbian couple's wedding. The actions of Elane Photography violated the rights of bride-to-be Vanessa Willock and her partner, according to New Mexico's Human Rights Act. Her representation was the Alliance Defense Fund, a conservative Christian group dedicated to quashing gay rights.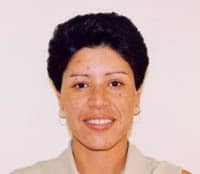 Willock (pictured) is a University of New Mexico staffer, an EEO Compliance Representative with the Office of Equal Opportunity "where she investigates claims of discrimination and sexual harassment." Elane Photography picked the wrong lesbian to mess with.
AFD counsel Jordan Lorence has explained that "no person should be required to help others advance a message that they disagree with." Responding to the filing of Huguenin's appeal, Lorence says they will take the case "as far as it will go."
It used to be everyone had their day in court; now it seems like everyone has their day in Supreme Court.
This is not to belittle the merits of this case—it cuts right down to a very basic, very American argument about civil liberty. I recall in high school an otherwise nice teacher of mine arguing that he felt he should have the right to discriminate on a racial basis when renting out a room or hiring someone to work for his theoretical small business. Where does it end? Probably not just with no wedding pictures—how about refusing to sell gay people clothes, food or health care?
Also, if your name is Elaine, why name your business Elane? That's just annoying.