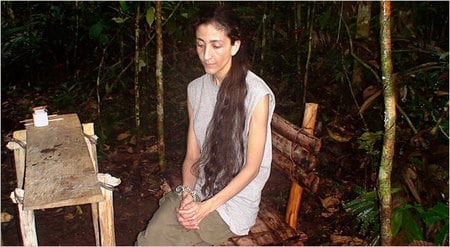 Freedom: Ingrid Betancourt, a Colombian presidential candidate held by the "Marxist-inspired" insurgents FARC in the jungle since 2002, has been rescued along with 14 other captives. Interesting that this happens while John McCain is in Colombia. In totally unrelated news, it's been revealed that a top John McCain fundraiser, Carl H. Lindner, Jr., has a history of supporting terrorist groups. The Cincinnati billionaire oversaw the payment of $1.7 million to a Colombian paramilitary group now defined as terrorists by the U.S. government and described as an "illegal right-wing anti-guerrilla group tied to many of the country's most notorious civilian massacres." Conspiracy theories aside, there's also been a long-overdue McCain campaign shake-up.

Rush Limbaugh is the $400 million-dollar Elvis of talk radio.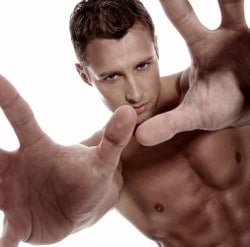 Bodybuilder Matus Valent shares recipes and visual access to his physique at connex24.7. And he's got quite a way with words: "My most often food I eat throughout the whole year is grilled chicken breasts with rice, but I would say my most favorite is a Steak, preferably from an upscale steakhouse. It can be Fillet Mignon, Ribeye or New York strip prepared medium so my muscles can get some of the highest quality protein." High-quality meat really does contain the best protein.

After Cyndi: Rocker and gay-rights activist Cyndi Lauper welcomes After Elton for an As the World Turns set visit.

Ask Obama not what your country can do for you, ask Obama what you can do for your country.

Does it pay to get gay-married?

For the first time, Army and RAF troops in the UK will be allowed to march in Gay Pride parades wearing their uniforms. Controversially, gay soldiers will be reimbursed their traveling expenses in getting to the parades, even though soldiers are not reimbursed for other functions—like attending the Queen's Garden Party.

Will the cast of Friends be there for you?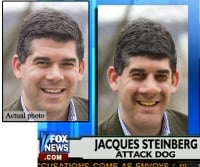 FOX deliberately alters images of New York Times reporters Steven Reddicliffe and Jacques Steinberg to enhance their point that they are "attack dogs."

Cuppa Joe…Bob…Bill…: WEtv set loose 15 shirtless, coffee-serving men in Midtown Manhattan to build awareness for its new show Hot Coffee Break, on which studly guys perform mundane tasks. Did I mention the network is aimed at women?

Openly gay Bishop Gene Robinson is set to preach at London's historic St Mary's, Putney, in the diocese of Southwark, at the invitation of church rector Rev. Giles Fraser. Says Fraser, "I am delighted that Gene Robinson is preaching in Putney. His exclusion from the Lambeth Conference, a meeting for listening, is an absolute scandal. He is a gracious and deeply courageous man of God."

Cindy McCain is very, very spendy.

Barack Obama shores up Hispanic support, so Bill Richardson might be off his short list. Obama also has the "grudging respect" of former Vice President Dan Quayle. There's a ringing endorsement.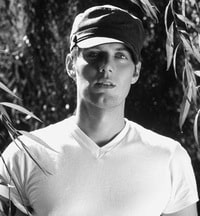 Okay, so Pete Wentz is not gay and damn him for being on the cover of Out. But he's got a (cute) gay business partner…does that help?

American Airlines may be laying off up to 900 flight attendants beginning August 31—and if you don't get why this is a gay story, you must take the train.

Sunscreen is annoying to put on and most of it might not even work adequately.

Madonna is allegedly having an affair with Alex "A-Rod" Rodriguez. Denied. Now A-Rod's wife, Cynthia, is allegedly shacked up with Lenny Kravitz. Word to the wise: Madonna, Rodriguez and Kravitz all share a manager—Guy Oseary.

If "hotheaded" John McCain is elected president, his first trip to visit volatile French President Nicolas Sarkozy might be a real smackdown.

And the people who live on Gay Street think they have it hard…check out New York's newest awkward avenue.