Kay Ryan, a poet that fellow poet and National Endowment of the Arts Chair Dana Gioia describes as a "thoughtful, bemused, affectionate, deeply skeptical outsider," is to be named the nation's next poet laureate today.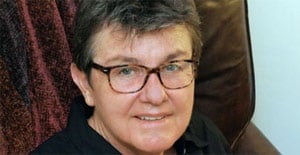 The NYT: "Known for her sly, compact poems that revel in wordplay and internal rhymes, Ms. Ryan has won a carriage full of poetry prizes for her funny and philosophical work, including awards from the Guggenheim Foundation, the National Endowment for the Arts, and in 1994, the Ruth Lilly Poetry Prize, worth $100,000…After briefly attending Antelope Valley College, she transferred to U.C.L.A., where she earned both a bachelor's and master's degree in English. She moved to Marin County in 1971 and lives there now, with her partner, Carol Adair."
Said Ryan: "I so didn't want to be a poet. I came from sort of a self-contained people who didn't believe in public exposure, and public investigation of the heart was rather repugnant to me. I couldn't resist. It was in a strange way taking over my mind. My mind was on its own finding things and rhyming things. I was getting diseased…An almost empty suitcase, that's what I want my poems to be, few things. The reader starts taking them out, but they keep multiplying."
As poet laureate, Ryan will receive a $35,000 salary plus $5,000 for travel, as well as an office at the Library of Congress.
Past poet laureates have included current laureate Charles Simic, and also Rita Dove, Elizabeth Bishop, Robert Frost, Karl Shapiro, Billy Collins, Joseph Brodsky, and Stanley Kunitz.