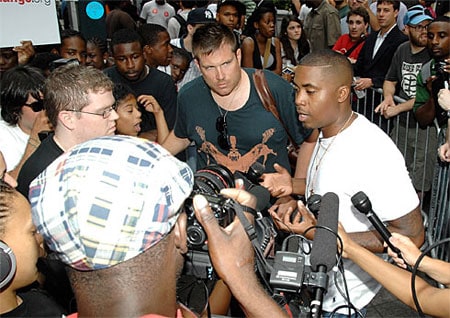 Robbie Daw presents a weekly pop music update here on Towleroad! Robbie runs his own site called Chart Rigger.
Calling Fox News a "propaganda machine," rapper Nas stood outside the Manhattan offices of the network yesterday and held a protest that was organized by ColorOfChange.org against what is believed to be a racist smear campaign against the Barack Obama campaign.
You can watch an MTV News report in the video below, but here is the gist of Nas' speech: "We already knew that Fox is not a news network; they are a propaganda machine. But their racist attacks have gone way too far. Calling Michelle Obama 'Barack's baby mama'—tell me, is that acceptable? Is that racist? Bill O'Reilly saying a 'lynching party' for Michelle Obama might be legit if she has the wrong political opinions. Is that acceptable? Is that flat-out racist?
"Is this hate-mongering and fear-mongering at its worst? … Fox's pattern of race-baiting and fear-mongering regularly focuses on black leaders, black institutions and ordinary black people. Like when they used the solemn occasion of Coretta Scott King's funeral to call black leaders racist — that's not acceptable. It's offensive to black Americans, and it's offensive to all Americans."
Following the protest, Fox issued the following, somehwhat defiant, statement: "Fox News believes in all protesters exercising their right to free speech, including Nas, who has an album to promote."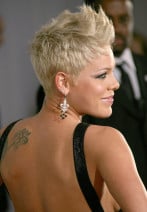 Looks like there are still "7 things" people love about Miley Cyrus, despite all the recent scandals the 15-year-old has endured. Billboard notes that while Nas has the #1 album this week, Cyrus has a slight lead with Breakout over Sugarland's latest to grab the top position on next week's chart after first day sales of 110,000.

Jive announced yesterday that Pink's fifth album (not yet titled) will be released October 28, and will be preceded by the single "So What," which will be available digitally mid-August. "So What" was written by Pink and produced by Max Martin," who also twiddled the knobs on her hits "U + Ur Hand" and "Who Knew."

Does Amy Winehouse's dad prefer the troubled singer's waxwork to the real thing? "We're going to take this Amy home with us and send the real one back," he said, possibly joking. "This one does what she's told—and she doesn't move." He then added: "She's put on a lot of weight. She's eating and concentrating on her new album, so she's doing pretty well."

Fleetwood Mac to tour in 2009, sans Christine McVie (and Sheryl Crow).

New laws in Russia are set to ban emo.

Saint Etienne will release a new version of "Burnt Out Car" as a single in September, as well as three different versions of London Conversations: The Best Of Saint Etienne—one of which will be "a 3 disc set in a beautiful book cover with a dvd of all our promo vids."

You may recall Lady GaGa's performance of "Just Dance" at the Miss Universe competition from two weeks back. She also wrote the New Edition duet that will appear on the upcoming New Kids On The Block album: "I wrote a song on the album and I'm a featured singer on a song called 'Big Boy, Big Girl.' The album will surprise people. It's completely futuristic – new, now and contemporary. There is nothing jaded or old about it. It's them doing 2008."
The Deluxe Fan Edition of country duo Sugarland's third album, Love On The Inside, featuring a cover of Dream Academy's '80s hit, "Life In A Northern Town." Billboard reports that after first-day sales of over 100,000 copies, Love On The Inside is neck-and-neck with Miley Cyrus' Breakout to debut at #1 next week.
Futurism, a DJ set from Danny Tenaglia.
Donkey, the second album from Brazilian act Cansei De Ser Sexy (also known as CSS).
Partie Traumatic, the debut from Black Kids, one of Rolling Stone's "one's to watch in 2008."
"So Much Better," a single from MTV's Legally Blonde The Musical: The Search For Elle Woods winner Bailey Hanks.