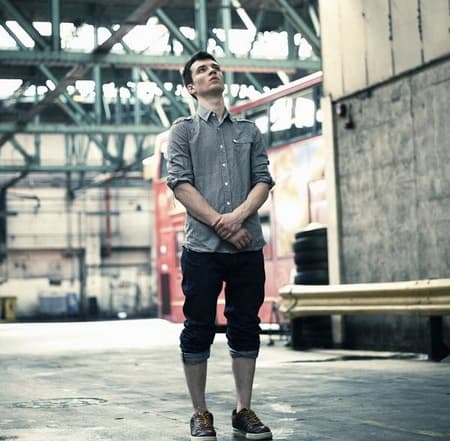 Robbie Daw presents a weekly pop music update here on Towleroad! Robbie runs his own site called Chart Rigger.
Frankmusik is the electro-music project of 22-year-old London remixer Vincent Frank, an upcoming artist in his own right who recently finished a U.K. tour with Sam Sparro and Alphabeat.
In an interview last month with Click Music, Vincent spoke about working with Stuart Price (who is currently working on the Killers' third set) on his debut Frankmusik album: "Because the album's not coming out until March 2009, I've got Stuart Price working on the record. I could namedrop the fact that, you know, he did Madonna's last album… but I don't need to… sorry. [laughs]. He's very, very, very talented, and very successful, and I think he sees a bit of me in him, when he was younger. He's very inspiring to work with, and there's no ego, and there's no bullshit, like a lot of big producers can have, when you go into their studio, and take up their time – this is very much an us project. He's gone to America to do The Killers' album, when he comes back in July, we'll be working on mine for about three weeks.
In the meantime, a track called "In Step" is available from U.K. iTunes. (Here on the U.S. store, you can download the tracks "Perfect Symmetry" and "Time Keeps Movin'" by Baby Origami and Frankmusik.)
This is the recently released video for "In Step":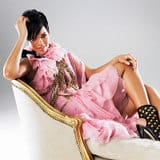 Emo poster children Fall Out Boy record a duet with rapper T.I., which bassist Pete Wentz describes as sounding like "something from The Nightmare Before Christmas."

Rihanna to be the face of Gucci's new UNICEF charity campaign. In the meantime, the pop diva appears on the cover of In Style's August issue, where she talks about her own look, and being inspired by Grace Jones: "It has evolved without my even noticing it. Lately I'm obsessed with Thierry Mugler…Grace Jones inspires me…she has extraordinary style and she's fearless. I love designer Martin Margiela: Kanye West told me about him. I also like Dsquared, Chloé, Zac Posen—he makes flattering lines."

First New Edition and now Michael Jackson: If reports are to be believed—and at this point, nothing's shocking—the onetime King Of Pop is recording a duet with New Kids On The Block. "It's very exciting, says 38-year-old Kid, Donnie Wahlberg. "It's one big party and everyone wants to join us."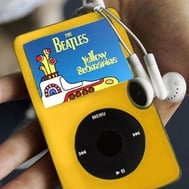 Bloomingdales will offer a limited-edition Beatles iPod during the holiday season, stocked with every song from the band's back catalog. Of course, by limited, I mean there will only be 100 available. The Fab Four's songs are still unavailable on iTunes, but Bloomingdales recently acquired the rights to Beatles images from Apple Records.

Any bedroom DJ can become Mariah Carey's top MySpace friend.

After not appearing on television since 1975, legendary rock act Rush to do The Colbert Report. Says Stereogum, "The best part of all this, of course, is that thanks to Stephen's tendency to interview bands post-performance, we'll finally get to stop wondering if Geddy Lee speaks like an ordinary guy."

It's not out stateside till Friday, but Mamma Mia! has already topped the U.K. box office in its opening weekend.
The ninth studio album from Nas, Untitled. Somewhat controversially, the set was originally to be called Ni**er.
Madonna's "Give It 2 Me" remix EP.
John Mellencamp's folk rock album, Life, Death, Love And Freedom, available on iTunes and at a Starbucks near you (as it's on the Hear Music label).
Australian diva Delta Goodrem's U.S. debut, Delta.
Former American Idol contestant Ace Young's self-titled set.
Rockin'! It's Foreigner's No End In Sight: The Very Best Of…
New singles from the Jonas Brothers ("Pushin' Me Away"), The Cure ("Down Under"), Pat Green ("Let Me") and Lil Mama ("What It Is").